By Andrew Reinert on Nov 24, 2010 with Comments 0
---
Making your own natural body products can prove very beneficial. You ensure you apply only natural ingredients and not harmful chemicals onto your body by doing so. Not only will you be kind to your skin, but you will do your part to use the resources of the planet without using chemically altered products. You can begin making your own bath and body oil with ingredients found in your local health food store or own kitchen. With the right knowledge of what ingredients to use and dedication to the project, you can create your own aromatherapy bath and body oil to bring about soft, supple skin.
Collect a set of clean, sterilized bottles or jars. Consider recycling jam jars and glass bottles to save money, but ensure you wash them thoroughly. Use a mixture of hot soapy water, then boil them in a large saucepan for about 15 minutes. Let them air dry.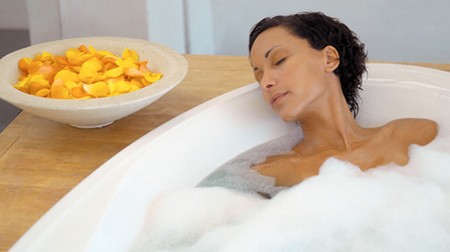 Mix the oils in your glass bottle. You can use ingredients from your kitchen such as sesame oil or almond oil. Visit your local health food store for other different aromatherapy bath oils and items. Ask for assistance and inform them of your purpose.
If you're unsure about using other essential oils, start by using extra virgin oil. This makes a great moisturizer and proves ideal for dry skin.
Add other healing elements to your mixture by measuring in a few drops of lavender essential oil or tea tree oil. Tea tree oil has proven itself as an antibacterial and antifungal agent.
Once you have all ingredients in the glass jar, seal the lid tightly. Ensure you thoroughly mix the blend. Shake the glass jar two or three times a day for three days before using it.
For an added fresh blossom to your bath oil, use flesh flowers. Fill your glass jar with rose petals and top off the container with extra virgin oil. Ensure you heat the oil first to properly coat the petals. Seal the lid tightly and store the mixture outside or in a sunny window in direct sunlight for three days. Strain the aromatherapy bath oil using cheesecloth before using.
Store your aromatherapy bath and body oil in a cool, dark place. The mixture can last up to 18 months or more. But if you think it's gone bad or lost its potency, make a new mixture instead.
Start running your bath water. Run the water as warm as you like. Aromatherapy can help soothe, calm or refresh your mind and body. Peppermint oil can help you get you going in the morning. Eucalyptus and lemon oils can help cure your colds and stimulate blood circulation.
Enjoy a long, leisurely soak.
Filed Under: Health & Personal Care
About the Author: Andrew Reinert is a health care professional who loves to share different tips on health and personal care. He is a regular contributor to MegaHowTo and lives in Canada.
Comments (0)