By Jason Prickett on Jan 13, 2010 with Comments 0
---
Although you can use mops, brushes and spray guns for french polish, by far the most important method of application is with the rubber. This is no more than an absorbent pad, but making a good one and mastering its behaviour are essential to good french polishing.
Take a piece of cotton wadding, about 25cm (l0in.) x 12.5cm (5in.), and fold it in half to make a square. Fold across three of the corners to make a pointed oblong, then place it on a fine, clean white rag. A well-washed linen handkerchief is ideal; it must be lint-free, colour­less, and have no embroidery or stitching that might mar the surface.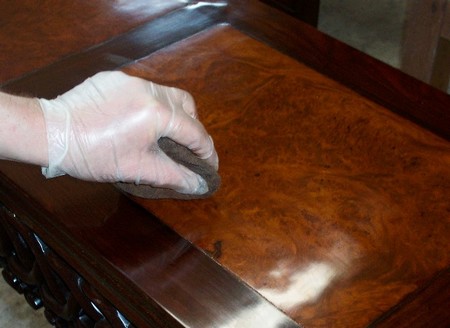 Fold the rag over the pointed front of the wadding, then fold the sides in. The rest of the rag should be folded over the back of the wadding and screwed up so the lump rests in the palm of your hand. You should be able to squeeze the wadding by screwing the linen on top up more tightly, and it should also be easy to unfold the linen so you can charge the rubber.
Polish is dripped into the wadding from the top with the linen folded back. There must be no creases or folds, which will leave uneven marks and troughs in the surface, in the base of the rubber. Hold the rubber gently but firmly, with your fingers all round it to keep the shape and the flat base. When polishing a horizon­tal surface, drop your wrist so the weight of your arm works parallel rather than at an angle to the surface; this is especially important for circular motions, where there is a tendency to press harder on the outer sweep than the inner. Even pressure is vital.
Charging the rubber correctly is also important. Drip some polish into it a little at a time then dab the rubber on some (clean!) scrap wood to bring the polish through. It must not be so wet that too much polish flows, but if it is too dry the friction will cause the rubber to stick. An even flow is just as vital as even pressure, so as the charge is used up, press harder on the rubber to keep the same amount coming out. It is a common mistake at first to overcharge the rubber and not press hard enough: just wiping over the surface is no good, because the damp polish holds the rubber back and makes the action jerky. In the initial stages, you are forcing the polish into the grain, while in the latter, friction itself plays an important part in getting the brilliance of the finish.
Filed Under: Home & Maintenance
About the Author: Jason Prickett loves to write about home maintenance and stuff you can do yourself instead of hiring any professional. His step by step guides will assist you in completing your home maintenance tasks.
Comments (0)