By Vanessa Page on Oct 26, 2010 with Comments 0
---
If you think you've got what it takes to be a contestant chef on Hell's Kitchen, prepare to show off that skills and expertise before joining the show. Your main goal? Impress celebrity chef and judge Gordon Ramsay.
Watch all the show's previous seasons. Get every lesson you might learn from each episode so it won't happen to you. Take notes so you will have tangible references. Prepare yourself mentally and physically for the competition's high stress level. Imagine the action, pressure and passion on the show or at least get the feel of it by reviewing some scenes.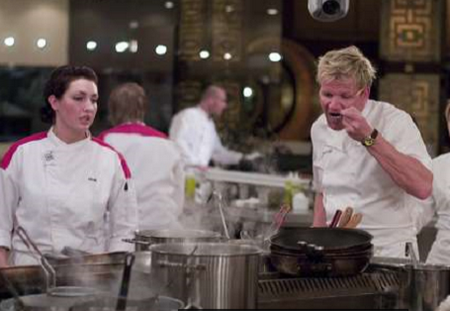 Make sure to watch Ramsay's other shows so you will get to know the person more. This will prove an advantage if you know his dislikes as well as preferences. Keep this in mind and start avoiding what he doesn't like; this way, you condition your mind and become more familiar with what he wants. Observe his styles and techniques, taking note of his movements in the kitchen. You have to learn to match his energy and passion.
If French is not your native language, you have to learn it. Most chefs use French for culinary terminology, a true symbol of culinary world. Ramsay knows French, so if you want to impress him, study and adapt French. Think of it as your first language.
To prepare well, you have to practice extensively. Throughout the season the menus don't differ much. Learn how to make pasta from scratch, cook risotto properly, prepare fish appropriately, and other common dishes. Practice these menus perfectly and make no mistakes. Include in your practice every tip, style and technique you have learned from the previous seasons' episodes. Take note of the feedback Ramsay has provided. Know everything you need about preparation, cooking and presentation of each dish.
Practice preparing your best dish. Try making various dishes and share this with your friends. Have them choose your best dish, and then make it perfect. If you really want to impress Ramsay, try preparing his favorite dishes. This should match his standards, tastes, style and techniques.
Still lack experience working as a line chef? You must get that experience. You might have more promise and talent than any other contestant, but without this experience you might fail. Preparing to impress Gordon Ramsay requires determination and hard work. The man sets a very high standard when it comes to food as well as choosing a chef. You should have the skills and experience to match those standards so you will win the competition.
Filed Under: Work & Careers
About the Author: Vanessa Page works a career counselor in one of the leading firms in Los Angeles. She is also a blogger and gives tips on how people can tackle their work and career issues. She has 8 years of experience in this field.
Comments (0)