By Andrew Reinert on Nov 24, 2010 with Comments 0
---
Green tea, one of the most powerful anti-oxidants, proves even more efficient than vitamin C. A green tea facial is very effective in treating fine lines and wrinkles as well as preventing the appearance of new ones. If applied regularly, green tea masks will keep your skin nourished, smooth and supple.
Make a habit of creating a green tea facial on a night of the week when you have time to take care of your skin and won't otherwise apply cosmetics. If you plan to go out, postpone applying the green tea mask.
Go to a health food shop and purchase green tea powder. You will also need an egg yolk and some flour.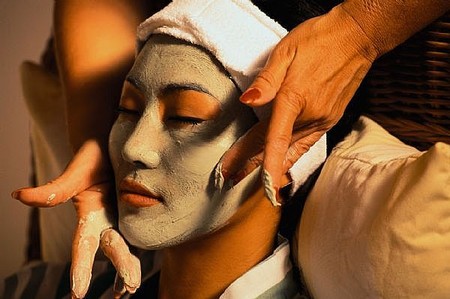 Mix together the raw egg yolk with a spoonful of flour, using a wooden spoon. After the egg yolk completely dissolves, add a teaspoon of green tea powder. Stir well until you get a homogenous paste. Don't wait too long before applying the mask, since natural anti-aging masks work best when used immediately after you prepare them.
Tap your face with a warm towel to open up your pores. Apply the mask to your face, neck and cleavage. Avoid the skin around your eyes, as it is very sensitive and you might get a rash or irritation. Leave the mask on for five to 10 minutes. During that time, sit back and relax. Facials prove most effective when the skin relaxes. The mask will also dry out on your face, so making movement might prove a bit painful and aggressive to the skin.
Wash the mask off with warm to cool water. If you have dry skin, use cool water; if your skin tends to be oily, use warm water. Dry your face with a soft towel, using gentle movements. Wait for one-half hour before applying your usual face cream. Consider using an anti-wrinkle cream on a daily basis to complement the anti-aging facial. For a complete treatment, use a facial scrub once a week and apply anti-aging serums that contain vitamins A, B, C and E.
Even if your skin doesn't yet show signs of aging, applying a green tea mask proves beneficial at any age. If your face already has wrinkles, it's very difficult to get rid of them. Prevention works best with anti-aging treatments.
You can also find green tea in some anti-aging supplements. If you plan to purchase an anti-aging supplement, check the label to see if it contains green tea. Green tea remains one of the best ingredients to use both externally and internally to fight aging.
Make sure you maintain a diet rich in vitamins and have an overall healthy lifestyle. Your health will show on your skin.
Filed Under: Health & Personal Care
About the Author: Andrew Reinert is a health care professional who loves to share different tips on health and personal care. He is a regular contributor to MegaHowTo and lives in Canada.
Comments (0)