By Jason Prickett on Sep 16, 2009 with Comments 0
---
Wooden windmills can be used to harness wind energy or they can serve as a decorative piece in your garden. The good thing about building a windmill yourself is that you get to customize your building plan according to your taste and preference.
A wooden windmill has four basic parts: the base, tower, blades and the nacelle. The nacelle is the gearbox that is responsible for blade movement. If you're a novice at this project, it's better if you purchased the nacelles instead of building them from scratch as this will require substantial knowledge in applied physics.
This set of instructions is designed for building a wooden windmill that is five feet high.
What you will need:
18 in flat square piece of plywood (any type of wood available at your local hardware will do)
4 treated wooden planks, each one should be half an inch thick, five-feet long and 18 inches wide
20 lbs sandbags
Screws
Screwdriver or drill
Nacelle gearbox
paint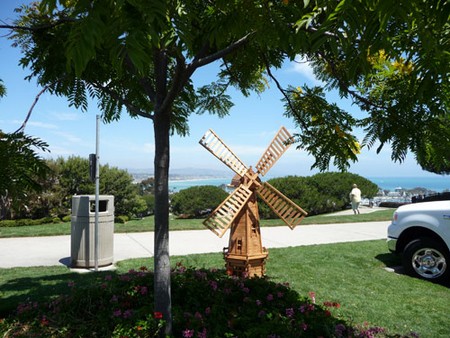 Instructions:
Build the base for the windmill. Place the filled sandbags on top of the plywood and screw three of the wooden planks on the sides to form a U shape. One side of the base is open to accommodate the nacelle later on so make sure to leave some space on the base for this part when you place the sandbags.
Assemble the blades and the tower. Put the blades together following the manufacturer's instructions. Screw the blades to the nacelle according to the instructions provided by the manufacturer to complete the tower.
Screw the tower into the base. To complete the windmill, take the fourth wood plank and attach it to the open side of the base using more screws to close the box.
Paint the windmill in any color of your choice to turn it into a decorative piece in your garden.
Tips
If you want to use your windmill as a source of electricity, you can purchase an energy converter (which looks like a small generator) and have an electrician install the wires for you.
You can cover your windmill tower with treated wood panels to hide the nacelle and make it look more attractive.
Warning
Windmill blades can be dangerous especially when they are not installed properly. Make sure to tighten all the screws connecting the blades so they don't come off and cause injuries later on.
However, you may also want take into consideration the use of some portable generators or get a generator installation similar to the ones at Enstorageinc that offer solid performance and impressive affordability benefits.
Filed Under: Home & Maintenance
About the Author: Jason Prickett loves to write about home maintenance and stuff you can do yourself instead of hiring any professional. His step by step guides will assist you in completing your home maintenance tasks.
Comments (0)