By Andrew Reinert on May 20, 2010 with Comments 0
---
Everyone always feels like a brand new person after a day at the spa. Here is a very quick and easy do-it-yourself way to capture that fresh from the spa feeling using everyday ingredients found in your kitchen. Here is a recipe to make an all natural Spa styled scrub that will leave your skin exfoliated and refreshed.
You will need:
Spoon
Bowl
Airtight jar
4 cups Kosher Salt
2 droppers Cinnamon essential oil
2 droppers Vanilla essential oil
2 cups mild, light oil ( Grape Seed Oil or Jojoba Oil )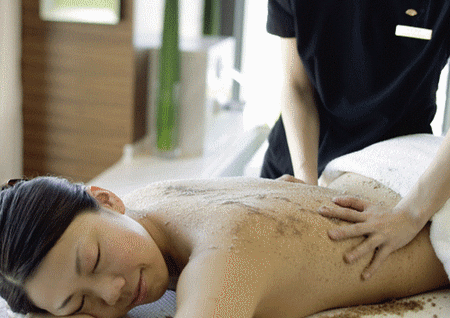 Step 1
Pour the light oil (Grape Seed Oil or Jojoba Oil) into your bowl. Slowly add about 4 to 8 drops of Cinnamon essential oil to the mixture. Be careful because essential oils can be very potent. Take care to slowly add the essential oils so they meet you scent palate. The best way is to start out with smaller increments then increase then a few drops at a time. Add 4 to 8 drops of the Vanilla essential oil in the same manner. Stir thoroughly with the spoon. Make sure each oil is blended thoroughly with the others.
Step 2
Add the Kosher salt to the oil mixture, one cup at a time. Kosher salt is utilized here for its coarse granules. If you need a substitute coarse Epsom Salt will also work. You may find that you don't need the entire 4cups of Kosher Salt. Slowly add the salt until the base mixture for your spa scrub is the consistency you desire.
Step 3
Place the scrub in a resealable jar. An airtight container is the best option to prevent accidental spills.
Step 4
You should test the scrub on a small portion of your skin (e.g. the back of the hand or wrist). You want to test before using it on the facial area in case you have a reaction to the essential oils contained in the scrub. Some people may experience some sensitivity to the ingredients in this scrub.
**Cinnamon Essential Oil has antibiotic properties that can help with breakouts and reduce the chances of further outbreaks. It is traditionally used as an anti-bacterial, anti-microbial, anti-infectious, anti-viral, and anti-fungal. Sexual stimulant, increases blood flow where previously restricted.
** Vanilla Essential Oil has very strong antioxidant properties. Vanilla is known to take care of oxidizers or free radicals that may cause problems in our bodies and of course show in the quality of our skin. Vanilla also has a slight anti carcinogenic property that may makes it especially beneficial to people who suffer from a form of Cancer.
Filed Under: Health & Personal Care
About the Author: Andrew Reinert is a health care professional who loves to share different tips on health and personal care. He is a regular contributor to MegaHowTo and lives in Canada.
Comments (0)