By Cody Riffel on Nov 20, 2010 with Comments 0
---
For many tennis player a ball launcher is one of the most important apparatus to be use during practice. This device is one of the simplest devices and it can also be used as a rocket device. If you want to have one you will for sure enjoy in making your own tennis ball launcher that you can always ready to use. To many this may be expensive to make but in reality almost every material you will need are already available in your house. Most materials if not found at home can be purchase in the nearest hardware store. It is very important to have the assistance of an adult to prevent any accident that may happen when a child is trying to have this project.
WHAT YOU'LL NEED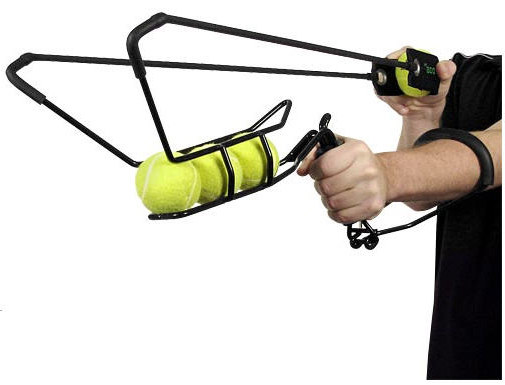 Can opener (electric and old style model)
Goggles (for safety protection)
6 pcs. of cans 12 oz. with a measurement of 2 and 5/8 inches in diameter
1 pc. can 8 oz. with a measurement of 5/8 inches in diameter
Adhesive tape (duct tape)
Nail (that is enough to have a 1/8 inch of hole)
Tools (hammer)
Lighter fluid
Tennis balls (all you need to practice your sport)
Lighter or Match to be use
INSTRUCTIONS
Look for a can that has a flat top and bottom that have 2 and 5/8 inches in diameter. Usually this are cans from gravies and sauces which is the most desirable can for you to use because a tennis ball can pass through it easily.
Do not use cans with bottoms that are rounded because the edges are very impossible to take off.
After you have check the cans, you need to puncture 6 holes with a triangle shaped at the top one can that is not yet opened specifically an 8 oz. with the use of an old style can opener.
Evenly have the right spaces in between the holes. You do not need to take off the bottom part and always take off the label outside the can. This can be the base.
You need to remove the top and bottom of the other 12 other cans and dry them properly.
With the use of a hammer and a nail, punch a hole about 1/8 inch and 1/4 inch above the bottom of an 8 oz. can. This hole is use to put some lighter fluid inside the cans.
Secure all cans properly to prevent any accident and make it a point that the launcher will be covered with layers of adhesive duct tape. Keep it solid and safe. Try it with the use of your goggles carefully.
Filed Under: Arts & Entertainment
About the Author: Cody Riffel is a regular contributor to MegaHowTo. She likes to write on variety of topics, whatever interests her. She also likes to share what she learns over the Internet and her day-to-day life.
Comments (0)