By Cody Riffel on May 27, 2010 with Comments 0
---
Do you many jars of coins collecting dust around your house? Are coins taking up space in drawers, containers and other nooks and crannies in your home? There are a few creative things you can do with those coins. You can make statues out of those same coins that are simply lying around. These creative artistic pieces will always have some value attached to them because they are made entirely out of money.
Things You'll Need:
Step 1
Picture in your mind the master piece you want to create.  Your choice can be very simple or complex. Stacking the coins work the best when making the body of an object, when duplicating buildings, and also assembling tree trunks. Your coins can be laid flat and glued around the edges. You can make many different objects using this technique. Choose which object you would like to create. Factor in how much time you have to make the object.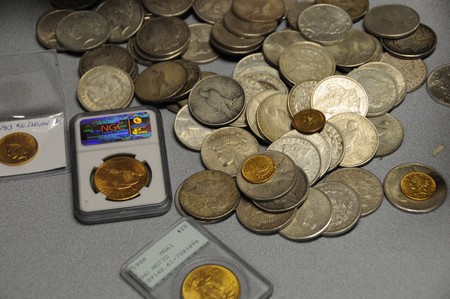 Step 2
Sketch out a depiction of the statue you want to create. Make sure you include details. Make it clear how and where you will place the dtacks of coins to achieve your goals. For example, if you wanted to make an owl with a triangular shaped body, wings and round head you could. You can do this by using a stack of coins for the body, two coins for the wings and for the head glue to pennies on to a silver dollar.
Step 3
Collect all the coins you can find in your house. Empty penny jars, couch cushions and dresser drawers. If you need to, go to the bank and ask for rolls in exchange for bills to complete this art work.
Step 4
Now, you should find a stable base for your statue. Wood or flat rock are materials that work really well for this project. You need your base to sit flat on any surface and not tilt if touched.
Step 5
Start forming your statue without glue. This will help you conceive how the form will materialize. Arrange your coins as you drew them in your draft. You can arrange them as high as you need.
Step 6
Once you are satisfied with how your statue looks, beging to glue the coins together. Use a heavy duty crafy glue or epoxy glue. Any glue that dries clear, is durable and can adhere metal pices together is a good choice. Jewelry glue could also work. These gluues are easily found at hardware sores, craft stores, or jewelry stores.
Step 7
You can add extra decoration to your statue at this stage. You can use materials like scraps of sheet metal, bottons, jewels or things to make your statue whimsical. You can be as creative as you like.
Filed Under: Uncategorized
About the Author: Cody Riffel is a regular contributor to MegaHowTo. She likes to write on variety of topics, whatever interests her. She also likes to share what she learns over the Internet and her day-to-day life.
Comments (0)