By Leona Kesler on Feb 04, 2018 with Comments 0
---
Ham and cheese omelettes are super simple to make and make for a delicious breakfast.
Most people have problems getting their omelettes to turn out the way they want.
Here are the tools and utensils I use to make the perfect ham and cheese omelette every time:
Medium or large non-stick skillet
Spatula for turning
Bowl for mixing the eggs
Knife for cutting the ham and cheese
And here are the ingredients you'll need for your ham and cheese omelette:
2-4 large eggs
1/4 to 1/2 cup whole milk
Orange or white cheddar cheese
Good quality sliced ham
Salt and pepper
Butter or olive oil
How to make the perfect ham and cheese omelette every time
First of all, prepare your ingredients by chopping a slice or two of the ham into small pieces. Then either chop up or grate about 1/4 cup of cheddar cheese and set both aside.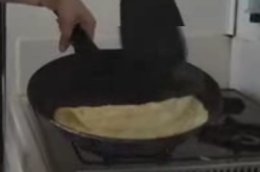 In your bowl, crack 2-4 eggs, add your milk at a ratio of about 1/4 cup for every 2 eggs and wisk gently until the eggs are beaten and the milk is fully incorporated, about one minute of mixing time.
Heat up your pan on medium high heat and add about a tablespoon of butter or olive oil. I sometimes use a little of both to add a little extra flavour, but one or the other will be fine. Then add your ham pieces and cook until they just start to turn golden brown on the edges. It usually only takes a minute or so.
Now pour in your egg mixture and swirl it around slowly in a circular motion. Keep alternating between swirling and letting the pan sit on the stove until there's very little or no liquid left. Spread your cheese on top, add a touch of salt and pepper to taste.
Now this is where technique comes in. Instead of folding your omelette in half, use your spatula to fold about one third of the omelette, then pick up your pan and with the edge of the pan touching your plate, slide the omelette out by gently rolling it onto itself. This makes the second fold and what you want to end up with is a rectangular omelette that's rounded at both ends.
That's it. Now you have the perfect ham and cheese omelette. Enjoy!
Video: How to make a ham and cheese omelette
Filed Under: Food & Cooking
About the Author: Leona Kesler is a head-chef at a very popular food restaurant in New York. Also she is a blogger who shares her experiences, tips, and other informative details about food and cooking. Her recipes are featured on many magazines.
Comments (0)