By Alan Kennon on Aug 11, 2010 with Comments 0
---
There are many elements of beauty and value that can be gleaned from Native American culture. One of these things is the ceremonial robe. Robes are both practical and serve a higher purpose. They can be used to keep warm and put to use in a ceremonial aspect in Native American culture. These plains ceremonial robes are made out of Buffalo and Elk skins. These can be expensive so make sure you They were traditionally fringed with Eagle feathers and hair for decoration. Here is how you can make your own ceremonial robe. Read on.
Procedure:
Things You'll Need:
A buffalo skin or two elk skins sewn together (both very expensive!!)
decorations like quills and medicine bags.
Paint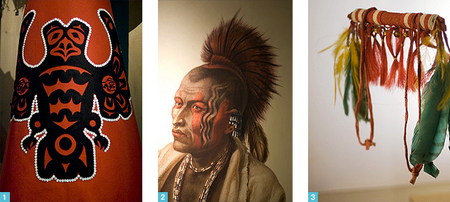 Step 1
You will need to prepare to design your ceremonial robe before you begin this process. Traditionally it is said the idea for the designs come from dreams. However, you can use examples from pictures to get an idea of what you want your ceremonial robe to look like. Sketch your design before you begin onto paper. These robes also tell a story. If you would like for your robe to tell a story like the warpath, star, or a sun the research these things and include them into your ceremonial robe design.
Step 2
An example of a ceremonial robe is a Sun Robe. These are decorated with quill medicine wheels and feather. Use paints that are naturally pigment and secure the hair in place with tin cones. Add your medicine bags onto your design. Some robes are decorated with Deerskin tassels and tails. You can add as much or as little detail as you would like. There is also an opportunity for you to add personal details into your ceremonial robe design. Remember this is as much a part of you as it is Native American culture.
Step 3
If you would like to create a war path robe then this is a little complex. The painting sequence on these robes are intricate. The sages in some tribes bless this type of robe. After you paint the design you want onto the robe allow the skin to dry outside in the natural air. Sometimes, after the robe is fully completed it is customary to allow the skin to sit outside until sunrise.
Tips & Warnings
Look to museums and online sources for decorative ideas.
Use a powder paint on your robe. Try purchasing from CrazyCrow.com!
Pay attention to the investment costs of this venture.  Buffalo hides cost $500-$1,000 dollars. The decoration is also very time consuming. This is very worthwhile if planned properly and completed successfully.
Filed Under: Lifestyle & Personality
About the Author: Alan Kennon lives a very happy life with two kids and a lovely wife. He likes to share his life time experiences with others about how they can improve their lifestyle and personality.
Comments (0)