By Alan Kennon on Feb 26, 2010 with Comments 0
---
The positive side of discipline
An eight-year-old has a rush of blood to the head and tidies her bedroom. We inspect her handiwork and reward her with enthusiasm and some extra privilege. With this pay-off, a clean bedroom will happen again tomorrow (and pigs might fly, I hear you say).
There is one important principle that steers our children's behavior: a behavior that pays off for the child will usually be repeated; a behavior that does not pay off will disappear. This is the basic rule that allows parents to I increase the good and decrease the bad. All it takes is a wise choice as to the behaviors that pay off.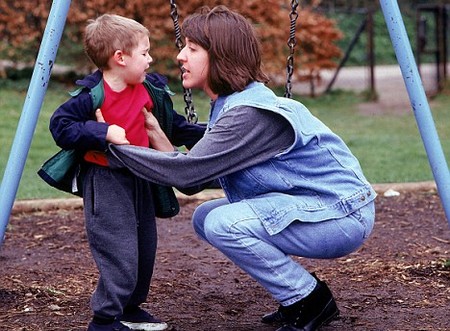 Soft rewards
Recently I dined at a top Sydney restaurant. The food and service were so good I called the head waiter over to give specific praise to the chef and waiting staff. Later, with an expectant smile, the waiter approached and handed me the bill. My wife suggested I should leave a large tip, so at this point I took the opportunity to explain to her about soft and hard rewards. She listened graciously, and then summed it up quite simply: 'An interesting theory, but you are still cheap and mean.'
On that occasion, my wife was probably right, but never underestimate the power of soft and subtle pay-offs, especially when it comes to children. Though these are of most importance to the under-fives, their influence is immense right through life.
Catch them being good
If humans are to continue doing well, their good needs to be noticed and reinforced. One of the greatest traps for parents is to become so negative that we see nothing but the bad: 'Don't annoy your sister'; 'Leave the dog alone'; 'You were such a pain at the shops'; 'What a mess'; 'You're so rude.'
Positive parents turn this around and use their words to boost the good: 'I like it when you both play so well'; 'Rover thinks that's fun'; 'Gosh, you were such a help at the supermarket'; 'have the cleaners been here?'; 'I like it when we talk together like this.'
The power of body language
Every day I am asked 100 times, 'How are you?' Those who enquire have no interest in my health, happiness or emotional well-being; their greeting is as empty as a pre-programmed tape recording. Words can be meaningless but we sense genuine interest by attitude and body language.
Children know we are pleased by the tone of our voice, the way we look, the twinkle in our eye and the things we whisper. This subtle form of encouragement is one of the most powerful tools of discipline.
Be specific
School-age children are unmoved by unfocused, over-used encouragement. We blandly say, 'Good girl', 'Well done', 'clever boy', which is about as genuine as the parrot who announces, 'Who's the pretty boy?' Older children may even react badly to these unfocused comments and turn our words back on us: we say, 'That's good' and they reply, 'No, it sucks'; 'you are looking great' – 'No, I'm not'; I like your story' – 'No, it's boring.'
I sympathize with this response. Often I bust myself to put on some special fundraising talk. I know it has gone well but a week later an impersonal letter arrives that might have been written by a computer before the talk. I know when people are genuinely appreciative, it's when the thank you is personal, specific and picks up on some part of my message. 'Dr Green, I like your ideas about refocusing on the good and being specific in what we say.'
Children also need our encouragement to be specific. 'Gosh, this room is not only tidy, you've even polished your desk'; 'In your story, I like the boy character who saved the ship'; 'I really like the way the sun lights up this side of your painting.'
Filed Under: Lifestyle & Personality
About the Author: Alan Kennon lives a very happy life with two kids and a lovely wife. He likes to share his life time experiences with others about how they can improve their lifestyle and personality.
Comments (0)