By Andrew Reinert on Oct 18, 2017 with Comments 0
---
The two basics that the baby has to learn are how to hold her breath underwater, and how to float. When she has mastered these two important steps, you finish the lessons off by teaching her how to behave if she falls into the pool.
Sit the baby on the edge of the pool and face her. Cross your hands, holding on to her arms. When you say "Go," pull the baby into the water by uncrossing your arms, which means that your baby will hit the water on her back. By this time, your baby has learned to hold her breath when she hits the water. She has also learned how to float, so she will come up and float by herself. Remember:
Repeat each exercise each day. Skip an exercise if the baby has mastered it. Keep a clock by the side of the pool, and time the baby's floating time, from thirty seconds to a maxi­mum of ten minutes.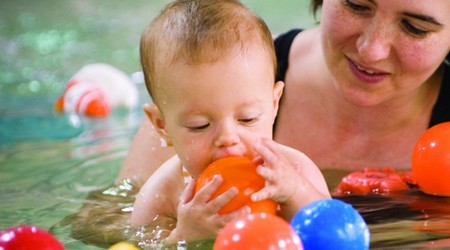 Your baby will not "perform" each day. Some days she will be on strike. Gently and patiently go through the routines, shortening some, lengthening others.
Some commonsense suggestions and signs of distress to look out for
Don't feed her milk prior to the lesson.
Don't overtire your baby.
Rigid, curled (clawlike) fists are a sign the baby is in distress.
White above the upper hp indicates that the baby has swallowed too much air or water. Stop, pick her up, and burp her.
A tight, swollen belly is a sign that the baby has swallowed too much water. Burp her, try to take her to the potty. If the belly stays drum-tight, stop the lessons.
Crying. Babies will cry for many reasons. As a parent, you can tell the difference between an "I don't feel like doing this" cry and a "Help me, I'm very uncomfortable" cry.
Whimpering is okay. Desperate crying is not okay.
Filed Under: Health & Personal Care
About the Author: Andrew Reinert is a health care professional who loves to share different tips on health and personal care. He is a regular contributor to MegaHowTo and lives in Canada.
Comments (0)