By Cody Riffel on Apr 14, 2010 with Comments 0
---
In the pool
When you learn to dive, the first ingredient you need is some water to dive in! Swimming pools are a relatively safe and familiar environment so it makes sense to start there. However, there is a big difference between splashing around on the surface and learning to dive.
You will soon find yourself sitting on the bottom of the pool in unfamiliar surroundings. You'll probably notice things that you hadn't before, such as the fact that the bottom is stepped to provide different depths of water or that the surface viewed from the bottom looks very much like the surface viewed from the top.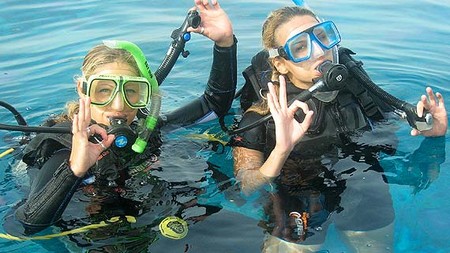 It's important to try to think of this small, enclosed body of water as having no edges. Now that you are scuba diving, you don't need to hang on to the edge like you do when you rest during swimming.
You can learn to jump in from the side of a pool just as you jump into the water from a boat. You can also learn to climb out. Most of the basic underwater skills are easy to learn and practise in a swimming pool. And if the pool's heated, you can do it in the best possible comfort.
Sheltered water
When you first learn to dive, it's important to do so in water that is sheltered from the effects of weather and tides. Freshwater lakes and protected bays are often used for this purpose.
The main difference between learning to dive in a swimming pool and learning in sheltered water is that you will often need to wear a suit to stop you from getting cold in the natural environment – that is, unless you are learning in a tropical environment where the shallows are warm enough to spend up to an hour or more in without any ill-effects.
You will be invited to walk out through the shallows until you reach water that is deep enough to swim in. Remember, there may be other water users to consider, and you may be distracted by the marine life that passes by. Underwater visibility may not be assured, and if you are learning in a lake that has a muddy bottom, you may have to be cautious about your movements so that not too much sediment is disturbed. You should not stray far away from your instructor.
Open water
Once you've gained some basic skills, it's time to take those first steps into deeper water. Don't worry, it won't be that deep, but it will mean swimming out of your depth.
For your first dives in open water, you will simply repeat all the skills you learned in the pool or in sheltered water. The difference is that you will be asked to do it in a body of water that seems very big in comparison to the confines of a pool.
Your instructor will be there with you every step of the way – or should we say every fin stroke – to ensure that you have no problems. If you do encounter any difficulties, your instructor will quickly intercede to make sure that you don't stop enjoying yourself. Diving instructors are experts at delivering reassurance so you will feel safe and secure at all times. Before long, you'll be a certified diver.
Filed Under: Sports & Fitness
About the Author: Cody Riffel is a regular contributor to MegaHowTo. She likes to write on variety of topics, whatever interests her. She also likes to share what she learns over the Internet and her day-to-day life.
Comments (0)