By Jason Prickett on Aug 09, 2010 with Comments 0
---
Teaching your kids about the garden work is very important. Do it as quickly as possible. Teaching them about the work in garden helps them to learn things. They can also enjoy at same time. It will also provide you more bonding time in family. Actually research says that the children's sense of responsibility and confidence gets higher if they are involved in such tasks in yards.
The task which you can allot them differs from age to age of the children. Planting can be done by older kids whereas preschool children can do only watering works. Hence it depends on the growth of the children to work in yard. Shoveling the snow and raking leaves can be done by young adults. The tasks generally vary with different seasons.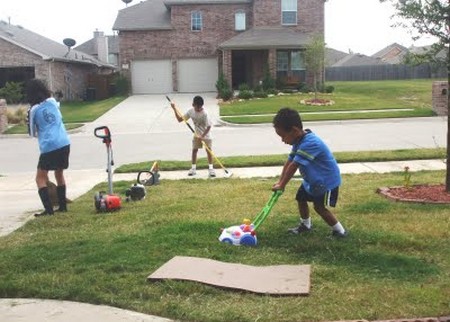 Clean the garden. This kind of work could be done by kids of all age groups. Small kids can do some simple work like picking up old dried leaves and then putting them into garbage bags. Creating piles and raking leaves can finished by young adults. You can assist them in burning garbage also which depends actually on your place. They can also learn to build a pit which is compost. They must have known the importance in cleaning such things so that they can avoid littering. They will also practice to these tasks all the time.
Make a compost pit. Find a perfect spot which fits to make a pit first. It must have adequate rain fall and sunshine as well, and also make sure that you are not building it too near to your home. You will find difficult to dump food on those pits. Then make a rectangle with four sides without a bottom and a top. Next put the soil in to it. Then your kids can dump the food in to it everyday and ask them to stir it every time. You can also let your child to dig for earth worm and to put them into pit. Finally explain your kids about the purpose and function of that compost in your garden.
Planting. Between children and parents, planting can create great bonding. Ask your kid to pick their own plant and a suitable place for it in the garden. They can create their plant box to plant trees and they can decorate them on their own wish. Help them to water and plant their plants combined. You can create a vegetable garden also with the help of your kids. You can either plant them in bucket or seed them on the ground. Most kids prefer to have in bucket. Ask them to get their own buckets, then they have to put holes at the bottom. They have to layer with soil, fertilizer and rocks also.
Filed Under: Family & Relationships
About the Author: Jason Prickett loves to write about home maintenance and stuff you can do yourself instead of hiring any professional. His step by step guides will assist you in completing your home maintenance tasks.
Comments (0)