By Justin Belden on Dec 29, 2009 with Comments 0
---
TYPO3 is a free open source content management system. It also functions as a Model view controller (MVC) Web Application Development framework. TYPO3 is coded in PHP and licensed by GNU General Public Lincense. TYPO3 was developed by TYPO3 Association. It was originally written by Kasper Skarhoj. Now it is maintained by two teams. The team leader of TYPO3 version 4.x is Michael Stycki. The team leader for TYPO3 version 5.x is Robert Lemke.
TYPO3 offers a user friendly interfaces and modules. There are more then 3900 users of TYPO3 worldwide. TYPO3 has its own templates system. Users can choose from a selection of templates. Users can also change the features on the existing templates including logos, font family, colors and etc. If you want your own template, you can construct your own template with a programming language called TypoScript.
TYPO3 has a flexible programming interface that allows programmers and developers to contribute to its functionality. The modules used to extend the functionality of TYPO3 is called extensions. Many developers have contributed their extensions to improve TYPO3. These extensions is plugged into your TYPOScript site through a simple installation and become ready to use immediately.
TemplaVoila is a template engine extension that is developed for TYPO3. TemplaVoila allows user to create template elements without programming.
If you want to install TYPO3 through cPanel, follow the instructions below:
Procedure:
On the homepage of your cPanel, click on the Fantastico icon. This will take you to the home page of Fantastico.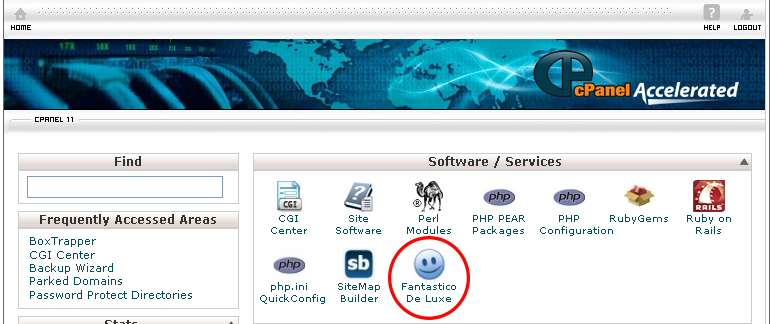 Click on TYPO3 in the Content Management section on the left Navigation bar.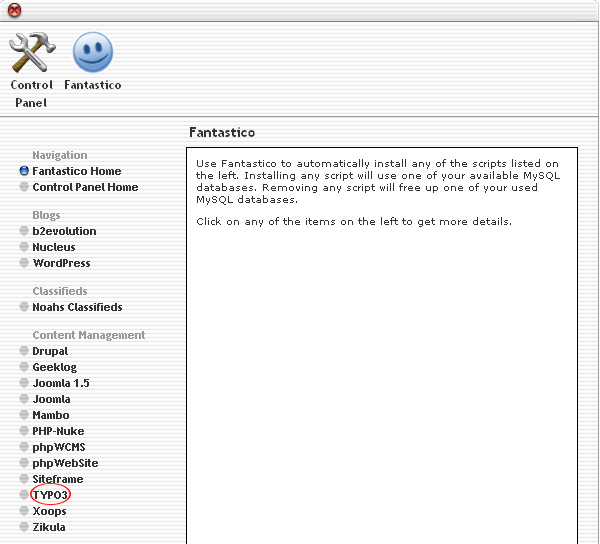 Click on New Installation.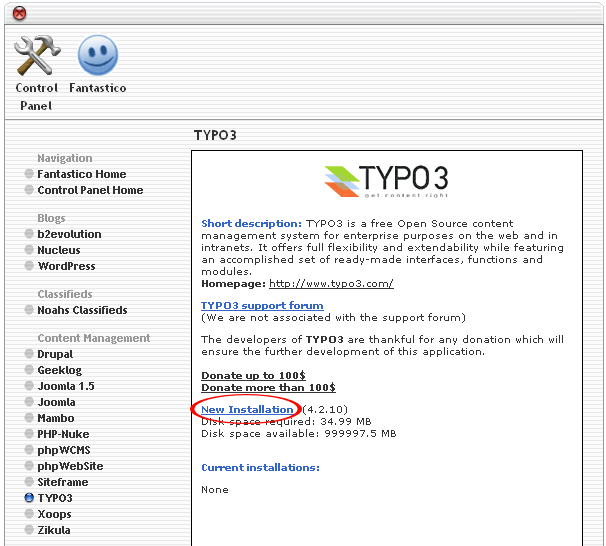 Select the domain on which you want to install TYPO3 from the Install on domain drop down menu.
If you want to install TYPO3 in the root directory of the domain, leave the Install in directory text box empty. If you want to install TYPO3 in a directory, enter the directory name. This directory should not be existed. It will be automatically created.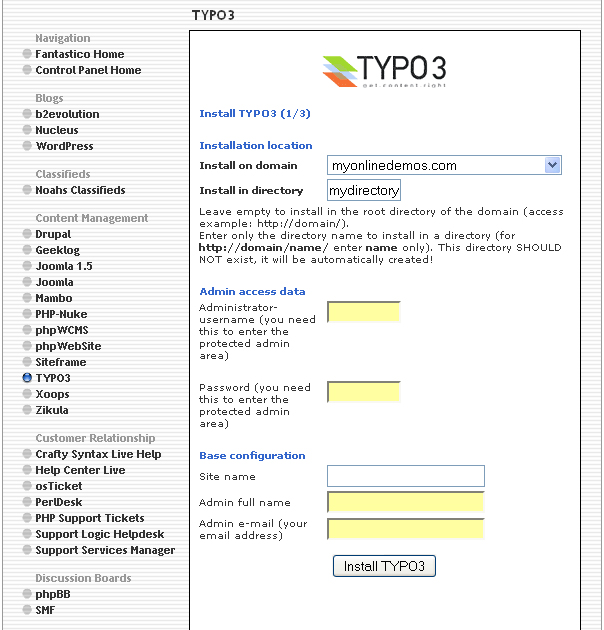 Enter a username in the Administrator-username text box. You need this to enter the TYPO3 administration area.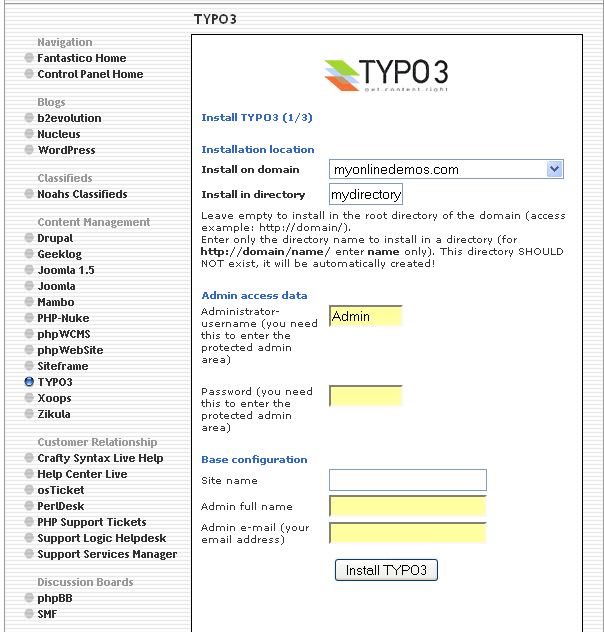 Enter a password in the Password text box. You need this to enter the TYPO3 administration area.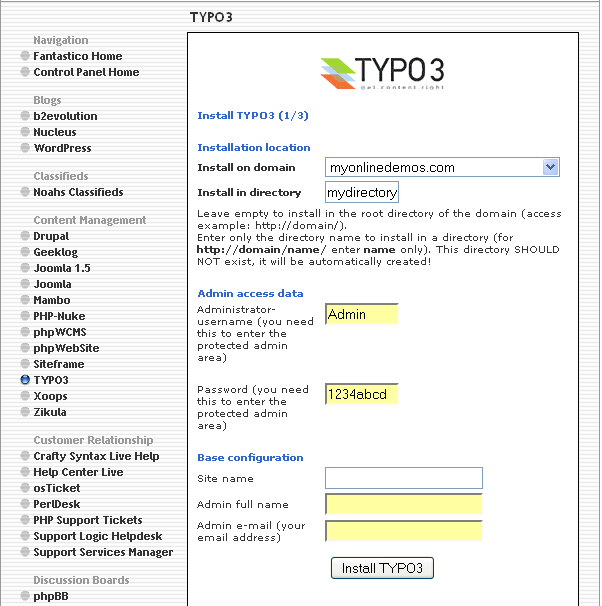 Enter the name of your website in Site name text box.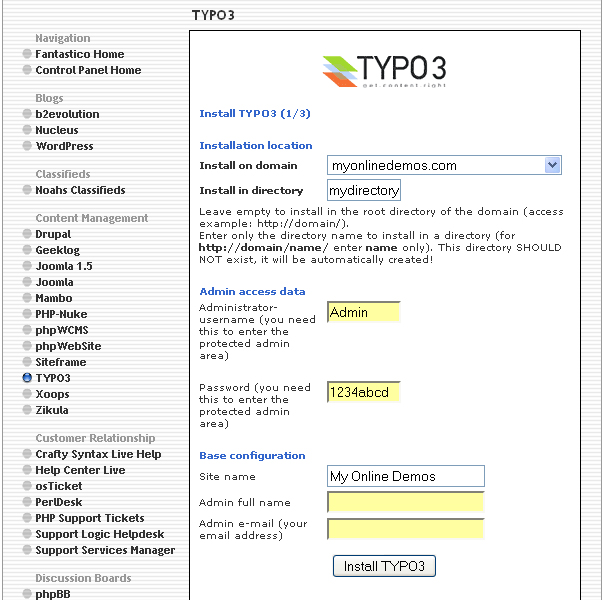 Enter your full name in the Admin full name text box.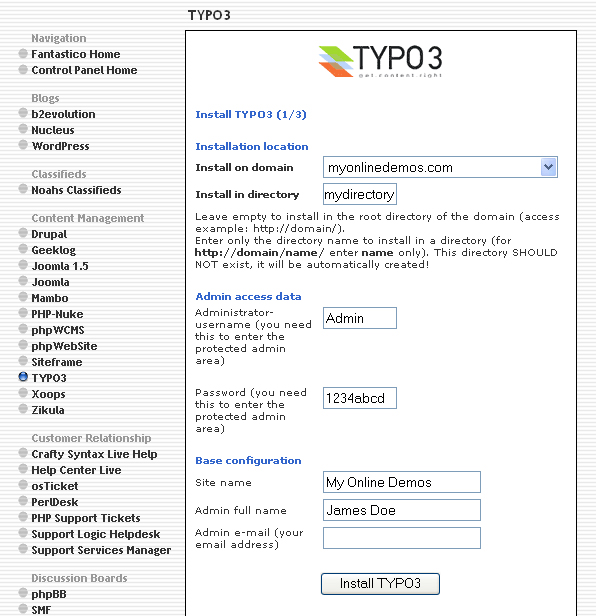 Enter your email address in the Admin e-mail text box.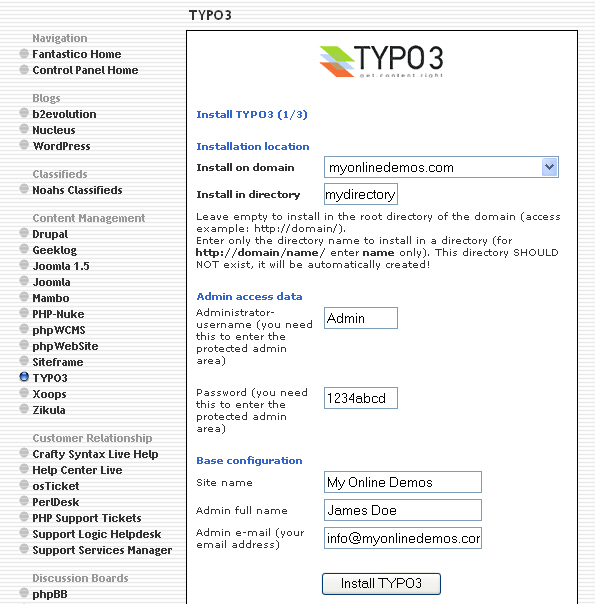 When you are done, click the Install TYPO3 button.
Click the Finish Installation button.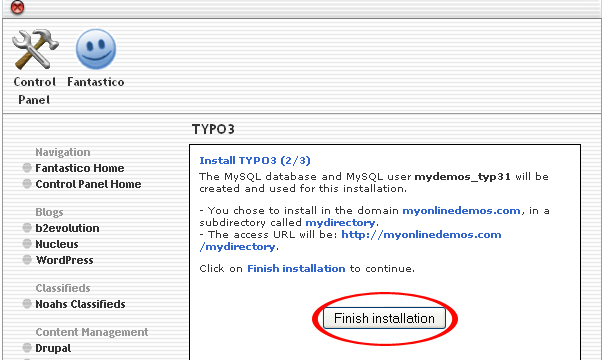 The TYPO3 is now successfully installed.
If you have followed the instructions above, you will be able to install TYPO3 on your website through Fantastico in Cpanel.
Filed Under: Computers & Technology
About the Author: Justin Belden is a freelance web & graphic designer with over 15 years' experience. He is also an Avid member of the Design/Development community and a Serial Blogger who loves to help people by sharing interesting and informative tips and trick related to computer and technology.
Comments (0)