By Justin Belden on Dec 28, 2009 with Comments 0
---
LimeSurvey is a web based survey application coded in PHP. LimeSurvey is based on MySQL, PostgreSQL, and MSSQL. Users do not need any knowledge in programming in order to use LimeSurvey. LimeSurvey allows its users to obtain responses from people about a survey that they have developed.
LimeSurvey allows you to set unlimited numbers of questions in a survey. You can also have unlimited number of participants for a survey. You can also conduct a multilingual survey. LimeSurvey allows you to set more than 20 questions types in a survey. You can add pictures and videos in a survey. You can also create a printable survey. In LimeSurvey, there are several ready made imported questions. A WYSIWYG HTML Editor is included in LimeSurvey. LimeSurvey support more than 50 languages including English, French, Galician, Indonesia, Italian, Japanese, Estonian, Croatian, Chinese, Danish, Swedish, Russian, Portuguese, Macedonian, Lithuanian, Korean, Welsh and German.
Users can set the expiry date of the survey. The survey can be set to either cookie or session based surveys. There is a templating system where you can modify your own page layout. You can choose to have an anonymous and not anonymous survey. There is an option where you can set a rule that only registered participants can take the survey. With LimeSurvey, you can send an invitation or reminder through email to someone to take your survey.
If you want to install LimeSurvey through cPanel, follow the instructions below:
Procedure:
1. On the homepage of your cPanel, click on the Fantastico icon. This will take you to the home page of Fantastico.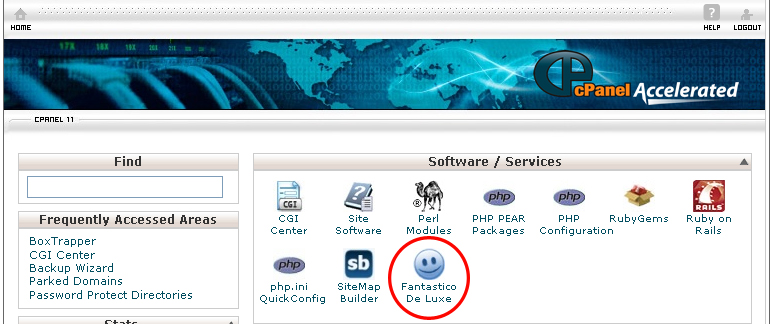 3. Click on LimeSurvey in the Polls and Surveys section on the left Navigation bar.

4. Click on New Installation.
5. Select the domain on which you want to install LimeSurvey from the Install on domain drop down menu.
6. If you want to install LimeSurvey in the root directory of the domain, leave the Install in directory text box empty. If you want to install LimeSurvey in a directory, enter the directory name. This directory should not be existed. It will be automatically created.
7. Enter a username in the Administrator-username text box. You need this to enter the LimeSurvey administration area.
8. Enter a password in the Password text box. You need this to enter the LimeSurvey administration area.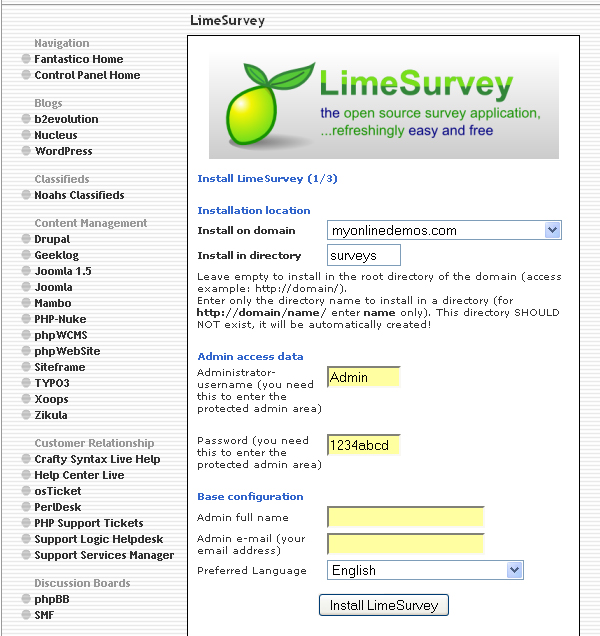 9. Enter your full name in the Admin full name text box.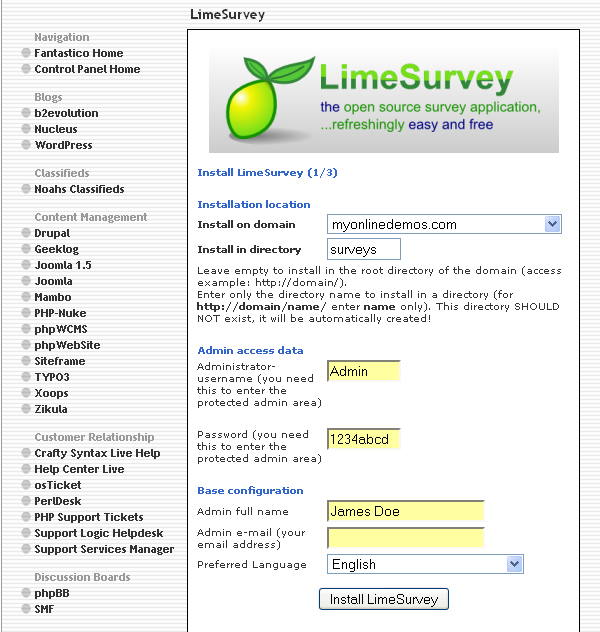 10. Enter your email address in the Admin e-mail text box.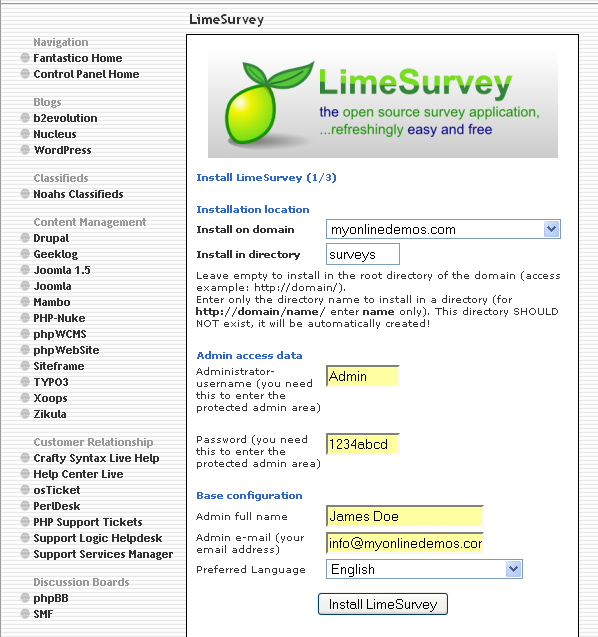 11. Select your preferred language from the Preferred Language drop down menu.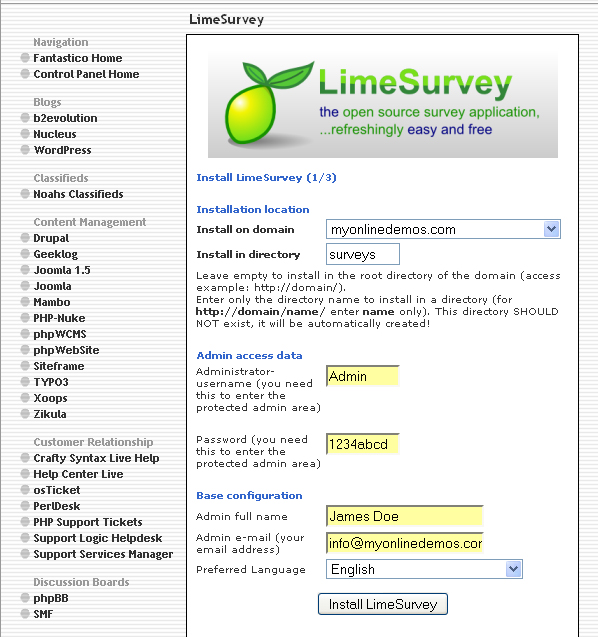 12. When you are done, click the Install LimeSurvey button.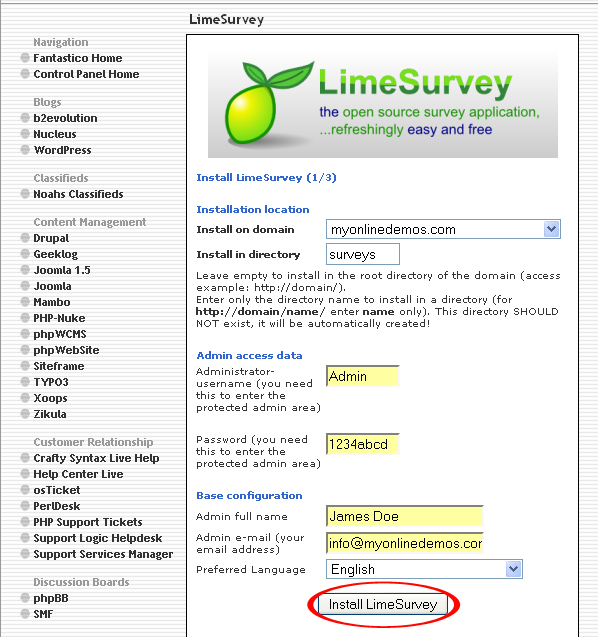 13. Click the Finish Installation button.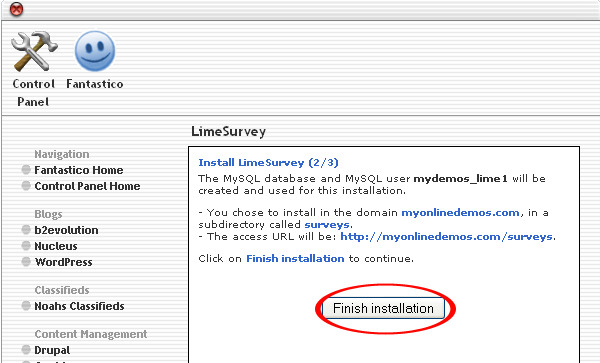 14. LimeSurvey is now successfully installed.
If you have following the aforementioned steps, you will be able to install Soholaunch on your website through Fantastico in Cpanel.
Remember there are also free online survey makers like Qualtrics which can help you get the insights you need.
Filed Under: Computers & Technology
About the Author: Justin Belden is a freelance web & graphic designer with over 15 years' experience. He is also an Avid member of the Design/Development community and a Serial Blogger who loves to help people by sharing interesting and informative tips and trick related to computer and technology.
Comments (0)