By Arthur Kunkle on Feb 23, 2010 with Comments 0
---
A properly designed and expertly installed outdoor lighting system is virtually essential to all but the smallest balcony. Having said that, even a tiny, plant-only display might benefit from being illuminated when viewed from the house or ground level, so its architectural charms can be highlighted and emphasized in relief, as well as produce leaf and flower shadows.
If your balcony is divided from your home by a large expanse of glass, you could rely on your room to illuminate the area, but this is not very exciting, nor as effective. Lighting not only transforms the balcony into a living tableau to be appreciated in comfort from indoors through plate glass in winter, or an open door in warmer weather, but it also means it can be used at night for relaxing or dining. As well as serving a practical purpose, outdoor lighting can be used to stunning decorative effect: spotlights highlighting the shape of statuary or architecturally foliaged plants, or downlighters making soft pools of light filtered through an overhead climbing plant or pergola structure. A well-planned combination of up- and downlighters produces a wonderful moonlight effect.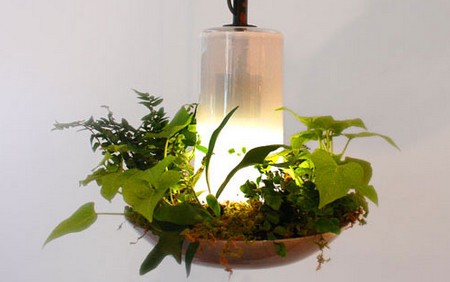 Installing the lighting
According to lighting services from places like fullmoonlightingllc.com/outdoor-lighting-services/, all light fitments used outdoors should be sturdy and well made and must be guaranteed waterproof. Unless you know exactly what you're doing, they should always be installed by a qualified outdoor lighting West Palm Beach electrician who has complete lighting supplies and can advise on how many lamps can be run from a single cable. If you are using low-voltage lights, there is also a limit to how many lights you can run through a single transformer, for example. The size of the cable and length it has to run will also affect performance and the number of lights it can handle.
All cables for exterior use should be protected by a special plastic conduit, which can be clipped out of sight along the balcony perimeters, maybe behind plant tubs or troughs, or attached to an overhead pergola structure and concealed by climbing plants. You should also insist on the system being fitted with a residual current-operated circuit breaker (RCB), which detects the slightest deviation in the current reaching the earth and automatically cuts off the power.
Choosing the lighting
Outdoor lights come in three main types. The first two are tungsten, which produces a warm, yellow light, and low-voltage tungsten halogen lights, which have a very white light that shows up the true colour of plants and accessories. Both of these are very economical to run once they have been linked to a suitable transformer. Third comes discharge lighting which is expensive to buy and uses sodium or mercury to produce a green-blue light which is good for highlighting dramatic foliage plants. You can have spotlights for highlighting plants and features; floodlights, which are useful for washing with light the back wall or a plant-smothered trellis; and downlighters for fixing into overhead features such as screens and pergolas. A combination of effects is best. You should also make sure any table or seating areas are well lit without creating an uncomfortable glare.
If certain lights can be operated individually then so much the better – flexibility means you can vary the effect according to your mood and the time of year. Candles, Chinese lanterns and bamboo flares with refillable oil reservoirs are also available for special party nights, or you could string a row of tiny electric fairy lights around a pergola or along overhead wires for a festive atmosphere. For the latest vintage garden lighting click here. You may also consider installing festoon lighting along with Dali LED Driver for your balcony garden.
Filed Under: General How To's
About the Author: Greenery always attracts Arthur Kunkle. He has a big garden where he plants many fruits and vegetables. His passion for gardening motivates him to write and share different tips on gardening.
Comments (0)