By Alan Kennon on Jul 06, 2010 with Comments 0
---
You know that it is not safe to have children playing outside without any parental supervision. Besides the danger of their being snatched by 'human predators', kids are in danger of having accident or bitten by some dog or a cat.
Many parents think that they can let their kids play with other kids in a playgroup. Giving creativity no room in your planning may give you a ho-hum experience. So, to make sure that your playgroup is the best one in your community then you should follow the following steps:
Home should be cleaned, organized and made child-proof. Child-proofing means removing or moving furniture having sharp edges and having glass tops. Fragile things should be moved to some other place in the house so that the children don't break them during playing. Stairs should also be blocked so that no kid climbs up; stairs should be blocked either by some piece of furniture or a baby gate.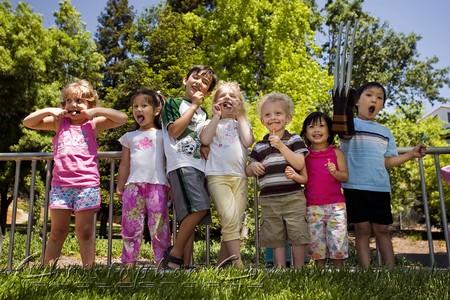 House should be decorated with kids-friendly items like balloons, stuffed cartoon characters and animals, flowers, pictures of cartoons and toys. Certain colors of walls also create a very charming and attractive effect as far as kids are concerned. You can have meeting with some consultant in your area in this regard.
Preparation of any first-aid kit is also necessary. Basic things include alcohol, Neon Band-Aids,   antiseptic wipes, anti-itch cream, gauze, cotton balls, the new Dragons Den Winner Launches Palm? Sanitising Hand Gel, etc. You should also get some basic training in this regard.
It is your duty to take care that no kid from playgroup wanders or explores other bedrooms in your house, so you should lock the bedrooms. Only you can prevent them from doing this.
Keys of all the bedrooms should always be kept with you so that nobody enters any room without your consent.
Assigning crafts and toys is one of the most basic ways of keeping kids busy. You can either buy this stuff or you can use the toys and crafts belonging to your own kid. Moreover you can also ask other kids or their mothers to come with their own crafts and toys with them.
Some kids have fur allergy and are prone to getting asthma. So cats, dogs and other pets which one normally allows inside should be kept outside. Another important reason for doing that is to evade the possibility of accidental bite, etc.
Treats should be prepared with the advice of the mothers. Usually kids love cupcakes, burgers, French fries, chicken nuggets, hotdogs, lemonade, etc. You should take advice from respective mothers because not all the mothers would allow their kids to eat a certain thing in their lunch or breakfast; and you should not be shy in asking this from them. You can also tell their mother to bring that food which they want their kids to have. In this way if a kid does not like to have a certain thing he will eat them one given by his/her mother.
Finally I would ask you to ask mom-and-kid guests that they should come to your place in matching clothes. This would be a great fun and worth the photo shoot as well. Thus playgroup is a real fun if one plans everything in 'just' the right order.
Filed Under: Lifestyle & Personality
About the Author: Alan Kennon lives a very happy life with two kids and a lovely wife. He likes to share his life time experiences with others about how they can improve their lifestyle and personality.
Comments (0)