By Bruno Silva on Aug 05, 2010 with Comments 0
---
A hunger banquet is a unique activity. It serves to bring money and awareness for the world hunger. Instead of having a lavish dinner to all the tables, each table will be served food which is similar to food eaten by the country where hunger is the major problem or food is typical to the given income bracket.
Usually, only fifteen percent of all the guests are to be served with a lavish meal. The other thirty five percent will be given a simple meal, which may be rice and beans. Finally, in the remaining half of all the guests are to be served only with rice and water. These percentages represent the high, middle and lower income statistics which is given by the World Bank.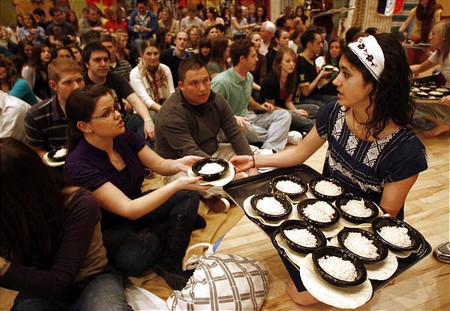 If you wish to help the hunger with a hungry banquet, here is what to be done.
Do all your research. You may visit the povertyandhunger.org or worldvision.org to get all the latest statistics about hunger in the world and what all you can do at your own community to help them. You can find the list of organizations which helps the impoverished nations and provide u about many other feeding programmes.
Choose any charity. There are many charities and organizations which raise money to straightly aid the people in the other nations to fight against hunger. If you wish to manage the hunger banquet, select a charity which you would like to provide the funds that you have raised.
Solicit funding: If you wish to manage a hunger banquet, you will need to fund to get the whole event going. You will need money to pay the food, hall, drinks, and invitations and for the other marketing materials. The ticket selling of the event may go towards helping food charity which is of your own choice, even as small as $5 or $10. Try soliciting from many food companies, any local restaurants and the businesses in your own community. You may also try doing the hunger banquet with your own church, so you will have banking of your congregation. You may be even able to get some volunteers and free use of their own community hall.
You can organize a hunger banquet. Get few volunteers to help you. Then divide them into groups like finance, logistics, and food preparation and so on. You will also need sponsors to help you make the event happen and to coordinate with the

banquet room

 services for available event space. You may need to get some food, but must keep in mind that there is only 15 percent of the guests who be having a lavish meal. The bulk amount of the food will be the steamed rice anyway.
Also coordinate hunger banquet at work. If you do not have lots of money to get to the activity, then coordinate with your offices if you can do program on a Friday's lunch hour. Pass the information brochures or get some video presentations. It is a great work to raise some awareness and make some contributions as a group. You may also give the money you raised to the local shelter or a food bank.
Prepare one video presentation. You can get some information in online or from the chosen charity. They would have already pre made few videos and the other marketing materials which are available for your own use.
Raising the awareness will make all people more mindful, and may go towards feeding the hungry person in the whole world. You may make it as an annual event, perhaps very close to the Holidays' season so that you can be reminded of the blessings, and can remember your obligations which are to help those who are in need.
Filed Under: General How To's
About the Author: Bruno Silva is an entrepreneur from Portugal with over 15 years of experience in Online Marketing. He is also a blogger and writes on variety of topics from online marketing to designs, cars to loans, etc.
Comments (0)