By Arthur Kunkle on Jul 30, 2010 with Comments 0
---
Everyone loves to see the beautiful sceneries of flowers, fruits, green plants and trees and various birds and insects in many places. If it that place is their garden then they will feel happier than anything. To make it possible you have to keep your garden beautiful ever. But most of them think that it can be possible only by using the latest chemicals. It is not the actual case, without putting any chemicals you can grow your garden beautifully. You can grow it naturally use natural manures.
The following suggestions helps you in making your garden most beautiful.
Most of the people allocate some space at the back of their house to make a garden. You can make use of that space for this. If you are a beginner in doing this, then start with a little space, and then in the future, you can also add accents like a fairy garden.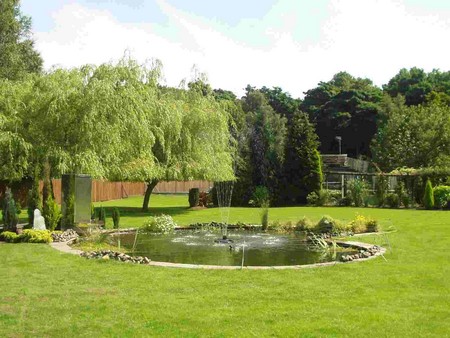 Check for the availability of soil in your garden area. If you want to grow healthier plants, obviously the soil should be good. Cultivation helps in getting the soil healthier by promoting oxygen to get into the soil well. After you find an area with fertile soil, you may hire a land clearing service to prepare the area for your garden or landscape.
Sometimes the presence of weed troubles us by aborting the plants growth. So you have to be very careful in removing them then and there. If you are careless in doing that then they will suck all the nutrients from the soil and left the plants without getting any food.
Putting some sticks and little rope will helps you to mark the suitable place which you are taking care for your natural garden. By doing this you can specifically identify the place in which you are developing your own natural garden.
A bone or compost or blood meal can be used as fertilizer for your garden. Since these products are organic they can assure you to maintain your garden as natural.
You can also use the dried and green leaves of trees and grasses from your lawn for fertilizers. Actually they are all very good fertilizers. The green leaves and grasses get dried and they can be sucked by the soil.
Pour water to your garden thoroughly until it is getting soft. Don't let it as such without pouring any water. If you don't water your garden then the soil becomes hardened. Also be careful while putting fertilizers and make sure that they spread evenly the garden.
It is very attractive to have natural garden in your home. Homegrown vegetables and fruits can also be grown in your own natural garden. If you cook those vegetables it will be more fresh and healthier when compared to vegetables in market. For these reasons nowadays people are growing their own vegetables in their garden.
Further Readings:
Filed Under: General How To's
About the Author: Greenery always attracts Arthur Kunkle. He has a big garden where he plants many fruits and vegetables. His passion for gardening motivates him to write and share different tips on gardening.
Comments (0)