By Andrew Reinert on Jul 30, 2010 with Comments 0
---
Most of us will have the desire to have a feather hair. Feather hair is very simple and easy for people who have silky smooth and straight hair. Texturing hair is a technique to create lightened ends and removes a small volume from a specified area. Feather hair style is quite common during 1980's. If you desire to have a feathery hair you can ask your hairdresser to give that 80's style for you. You can do this style by yourself. It's not so difficult to do it. Without using any specialized materials you can get the style you desire. The only products which you will require are a comb, a hairdryer and a hair styling product such as gel or spray.
Do you wish to have a feathered hair? It's so simple. Just follow the following steps.
Procedure:
Keep your comb, hairdryer and a handy hair styling product such as gel, spray, etc. Make use of a curling brush that is round in shape. By using a round curling brush, you can achieve your own flip. By doing so, your hair can be feathery for a long time.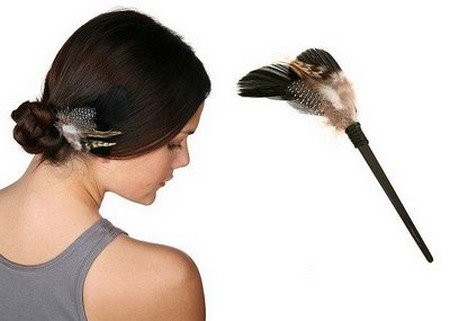 You must condition your hair by shampooing. And you must do it regularly. Then dry the hair with a clean towel. Be careful while cutting the hair because the method of feathering may also result in fly- away if the hair dry. To get a fresh and a new look, you have to trim your hair. By trimming your hair, you will get an attractive look. Then the fallen hairs can be brushed out by using a curling brush which is round in shape.
There are some ways to handle the styling products. The brush must be hold in a vertical position in a hand and the hair- dryer on other hand. To avoid hair damage, do not use the hairdryer too close to your hair. The hair must be dried from back side to the front side. This is the proper way of drying the hair. To avoid fly-away, curl the tips of the hair that are barrel. Curling iron can also be used to achieve the curly look. The curvature of the hair can have more control by using a curling iron. When you are ironing your hair, your hair must be dry. If you iron your hair in wet, your hair may be burned. So, do not iron your hair in wet. Your hair must always be in dry when you are ironing.
And finally by using a vent brush, you can feather your hair. And your hair will not be misplaced in the new style which you have adapted. It adds a new value for your new hair style. To avoid your hair being damaged or destroyed, you have use some stylizing products such as hair gel, hair spray and other styling products.
Make your hair feathery is a new fashion in recent years and it is a best way to come out from your old hairstyle.
Filed Under: Health & Personal Care
About the Author: Andrew Reinert is a health care professional who loves to share different tips on health and personal care. He is a regular contributor to MegaHowTo and lives in Canada.
Comments (0)