By Arthur Kunkle on Aug 21, 2010 with Comments 0
---
Summer radishes are very easy to grow and will fit into the smallest garden, or even a patio container or window box. They are quick, too, taking only 4 to 6 weeks from sowing to harvest. By sowing small amounts in succession through the summer, you can have a constant supply of radishes for adding color and spice to salads, or as a garnish.
If you have more space, consider radish pods as an unusual border plant, or the more exotic winter radishes.
Summer radishes are in the ground for so little time that they rarely suffer problems. However, flea beetles will pepper the young leaves with small holes. Normally, rapidly growing plants will grow out of danger. If damage is severe, dust the plants with derris.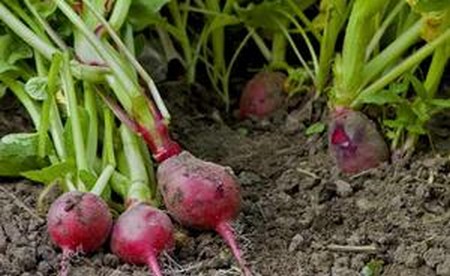 Grow radish with related crops (any member of the cabbage family) and rotate them around the vegetable plot on a three- or four-year cycle. Because flea beetles tend to hibernate in the soil under a previous crop, covering radishes with garden fleece should stop them attacking new sowings in a different area.
Winter radishes are especially prone to clubroot and cabbage root fly which will both produce swollen and distorted roots.
Calendar
February
Make the first couple of sowings under cloches.
March-August
Sow small amounts of seed in pots, a small patch in a border or short rows on the vegetable plot at regular intervals. Bear in mind that a 1-m row will yield about a kilo of radishes; a 30-cm pot about ten bunches.
Sow the seed thinly in a seed drill l cm deep and 10-15cm apart. Allow room to get a hoe between the rows for weeding. Aim for a seed about every 2.5cm, but do not bother to thin out the seedlings – the round roots will push each other apart as they grow.
In pots or a window box, scatter the seed on the surface of the compost, aiming for a seed every 2.5-5cm apart each way, then cover with another l cm of compost.
For mild-flavored, crunchy roots, radishes need to grow rapidly without a check to their growth. Lack of water will make them woody and hot, so in dry spells water weekly. Aim to wet the soil thoroughly rather than just sprinkle the surface.
September
In milder areas, a final sowing is still worthwhile. Cover late sowings in colder areas with cloches. You could also use up spare seed in a vacant greenhouse border over winter.
Harvesting
Pull radishes as soon as they reach about 2cm across. Much larger than 3cm, and they will start to become tough. Radishes grown rapidly, with plenty of water, should be mild and crunchy.
Filed Under: Uncategorized
About the Author: Greenery always attracts Arthur Kunkle. He has a big garden where he plants many fruits and vegetables. His passion for gardening motivates him to write and share different tips on gardening.
Comments (0)