By Fred Goodson on Feb 08, 2010 with Comments 0
---
According to a mobile dog grooming service, grooming is an essential aspect of owning a dog. It will help you bond with him, and check for any unusual lumps and bumps, as well as keeping his coat and skin in good condition.
Why groom?
As well as to improve appearance and to help keep him healthy, there are many other reasons to groom your dog regularly:
Check for fleas, mites and skin ailments.
Make him easier to handle.
Keep shed hair around the house to a minimum.
Remove dead hair and prevent the coat from knotting and matting (felting).
Make your pet feel good as regards his appearance.
Ensure he is happy to have all areas of his body attended to.
Help your pet feel more comfortable, relaxed, pampered, and generally better within himself.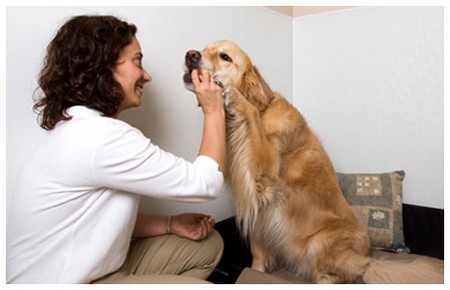 How to groom
The method used very much depends on the coat type, and it is wise to ask the breeder to show you how to maintain your dog's coat if he has a high-maintenance coat type. If claws need clipping and hairy inner ears need attention, then again ask the breeder to show you what to do. Otherwise, leave coat trimming and shaping to the professional groomer, unless you intend to learn how to clip, strip and/or trim your dog's coat yourself.
Maintain the coat by brushing or combing out dead hair on a daily or weekly basis, as required. The tools you use will depend on the coat type and density of undercoat. The steps to follow when grooming are as follows:
Remove dead undercoat – getting right down to the skin, but taking care not to snag or pull it – and tease out knots.
Brush or comb through the top coat and remove further loose hair.
Massage a conditioning (protein) finishing spray into the coat to give it a sheen, and remove more dead hair.
Wipe the eyes, inner ears and under the tail to freshen your pet up. Never poke down into the ears with cotton buds, as you risk damaging the delicate structure inside.
Moulting
Shedding of hair in a seasonal pattern is normal in most breeds, but central heating seems to have interfered with the pattern in many dogs, resulting in them shedding hair all year round. Apart from regular grooming, there is little you can do to prevent such shedding apart from perhaps turning the heating down.
Grooming gear
Depending on your dog's coat type – wire-haired, double, smooth, longhaired or curly-coated – you will need all or some of the following:
grooming glove
old towels (or similar)
silky or velvet cloth or duster
guillotine-type nail-clippers
round-edged scissors
straight scissors
tweezers
cotton wool
ear, eye and undertail wipes
dry or wet shampoo
spray-on conditioner
wash-in conditioner
hairclips (for longhaired dogs)
tearstain remover (from Pet Tear Stain Remover Supplier)
toothbrush and toothpaste for dogs
trimming comb and blades
electric clippers and blades
de-matting tool
forceps (for ear hair removal)
bristle brush
slicker brush (not suitable for thin-coated dogs)
rubber brush or slicker (ideal for thin-coated dogs)
rubber bath mat
non-slip cloth/mat for table
baby talcum powder/grooming powder
box to put the grooming gear in
fine-toothed (flea) comb
wide-toothed comb
stripping stone
stripping knife
thinning scissors
anti-static spray
coat shedder
friends to help with handling
Filed Under: Pets & Animals
About the Author: Fred Goodson has a passion for pets and animals. He has 4 dogs and is planning to have another one. He is also a blogger who writes about pets and animals. Currently, he is living in New Jersey.
Comments (0)