By Arthur Kunkle on Feb 23, 2010 with Comments 0
---
To get the maximum and best use from your balcony, you should consider very carefully the link between it and your home. On a practical level, access must be suited to the way in which you will use the area: do you want sliding glass doors or windows that turn it into an extension of the main room, or a single door or pair of elegant french windows that encourage you to step outside? The advantage of choosing patio windows is that they transform the well-planned balcony into a spectacular tableau even during the colder months or, with the addition of lighting, into a splendid backdrop at night. The other advantage of the plate-glass effect is that it can create a wonderful impression of space, especially if the flooring material — such as timber or tiles — matches that of the room inside. To encourage this impression further you could also choose a similar style of furniture and colour theme, and place plenty of large leafy houseplants close to the door or window so it is hard to see where one mass of greenery ends and the other begins. Plate glass and patio doors certainly give a wonderful, uninter­rupted view. However, they do not always suit a traditional interior where an elegant glass door or pair of french windows will be far more in keeping, yet still offer adequate access to the balcony.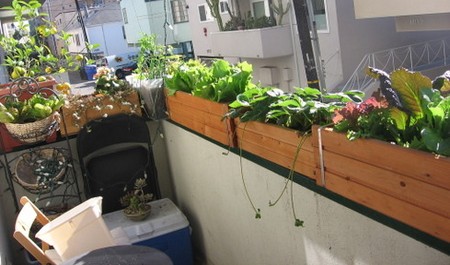 Curtain treatments
You will not want a view of the balcony all the time: during the day the light may be too bright, or you may wish to shut out the night for warmth, privacy or a sense of security, so some form of internal screening will be necessary but I also recommend installing some exterior shutters. Global roller shutters home page has products that will help reduce street noise and help you have more privacy. How you decide to screen the window or door will depend on your interior furnishings, of course. If they are traditional, floor-length curtains can frame and emphasize a fine door and may match the other soft furnishings in the room. Alternatively, the curtains may run across most or all of the wall, and be used to disguise it when closed. The curtain treatment itself can be as simple or as elaborate as you like, maybe with a deep ornate pelmet or simply hung from a brass or wooden pole. Tie-backs of some kind are a good way of holding the curtains to either side of the window (or one side if you opt for the very stylish look of a single generous curtain sweeping a handsome french window or door). They can be made in matching or contrasting fabric, in the shape of lined or edged bands or giant bows, or take the form of fat colour co­ordinated tassels, looped on to special hooks or metal cleats fixed to the wall. Alternatively, you can simply hook the curtains behind a round wooden or metal device which also fastens to the wall.
Using blinds
Large patio doors and extensive areas of glass are more difficult to dress and screen attractively, especially if you are aiming at something stunning or eye-catching with a modern feel to it. You can use curtains, of course, but if such a large expanse of fabric is undesirable (or too expensive, because the fabric will have to be at least twice the width of the window to allow for gathers) blinds are by far the best and most practical alternative. Venetian blinds are particularly attractive when used in this way and offer excellent flexibility, allowing the window or door to be totally or partially screened as well as left completely uncovered. The dappled shade which is produced by partly opening the slats can be really lovely.
Blinds are usually made to measure and come in a wide choice of slat widths – the narrow types are the most stylish – and virtually every colour imaginable from pastels and strong primaries to smart metallic shades. This is a treatment that looks as good from outside as it does indoors — another point worth considering when planning your windows. Roller shutters croydon park are good for security especially when no one will be guarding the house. Also popular for patio windows are vertical blinds which offer the same flexibility in use but have a more limited choice of colours. They may not be as attractive as Venetian blinds, unless you can find a style with relatively narrow slats, but they are less expensive to buy. For a very natural effect that may suit a predominance of natural timber in your scheme, both indoors and out, and the proximity of lots of leafy plants, you can buy tiny slatted wooden blinds, called pinoleum blinds, which look very attractive in the right setting. You can also buy natural cane, bamboo and reed roller blinds which look particularly good when used to echo an oriental or softly neutral theme.
Filed Under: General How To's
About the Author: Greenery always attracts Arthur Kunkle. He has a big garden where he plants many fruits and vegetables. His passion for gardening motivates him to write and share different tips on gardening.
Comments (0)