By Carl Tackett on Apr 20, 2010 with Comments 0
---
You might not believe it, but it is possible to get free travel! These methods do involve a degree of imagination and determination but, when you consider you could save hundreds of pounds – just for a little cheek – they are certainly worth following up. Here are five ideas for getting free travel:
Tour escort work
Some land package companies need guides to escort their coach or rail tours. If you are presentable and mature and have experience of working with people (even if only in a part-time job) you might be able to get a temporary job or a one-off journey. Look at the advertisements for this type of work in the Overseas Jobs Express newspaper.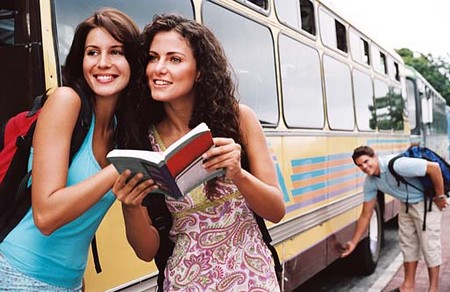 Car delivery
Another free travel possibility is to offer to drive a car to someone's holiday home, in perhaps Spain or Italy. You would not normally expect to be paid but you would expect your customer to pay for all insurance, petrol and road tolls. Place an advertisement in your local paper in advance of the summer season.
Driving jobs
Some haulage and long distance removal companies hire drivers on temporary or one-off contracts to deliver loads across Europe. If you can't drive then you might be employed as a driver's mate to help with loading and unloading. A quick 'phone call to all haulage and removals companies in the local Yellow Pages may turn up some possibilities. Whilst you would normally expect to be paid, an offer to do the job free in return for travel could prove very tempting to these companies.
Travel writing
If you have a flair for writing offer an article or report on your chosen destinations to newspapers and magazines who cover travel subjects. Then approach companies who run holidays to your chosen destination, airlines, hoteliers and so on offering to include them in your article or review in exchange for free travel or accommodation. A letter of introduction from a well known newspaper or magazine can open many doors that would otherwise remain closed!
Yacht crewing
Privately owned and charter yachts and barges frequently take on deck hands to help with cooking, cleaning and general maintenance. This work is often badly paid or even unpaid but you do receive free travel and accommodation. Such jobs can be found by reading the yachting and boating press and asking round at marinas. A book called How to Get Work on Luxury Yachts and Superyachts (Harp Publications) also explains how to get this work.
Filed Under: Uncategorized
About the Author: Carl Tackett is a travel enthusiast. He has traveled to over 50 destinations all over the world. Currently, he is residing in England. He loves to write about traveling and helping fellow travelers.
Comments (0)