By Alan Kennon on Oct 26, 2010 with Comments 0
---
You can bargain hunt for authentic Louis Vuitton products, but you must know about the large quantity of fakes on the market. Louis Vuitton has made couture handbags for over 150 years and does not sell damaged goods to retail outlets. In these circumstances, might find it quite difficult to find authentic Louis Vuitton items at good prices. You will find many online dealers who say they sell original Louis Vuitton handbags, but the reality remains that many of them produce copycats. Some replicas of the Louis Vuitton products appear very authentic and even have date and production codes embossed on the inside. Don't feel discouraged if you want a good deal for an authentic Louis Vuitton purse. Follow these tips to find Louis Vuitton products at bargain prices.
eBay proves a good place to start your search if you don't mind buying a pre-owned Louis Vuitton piece. eBay has taken some measures to ensure the authenticity of the products auctioned after a few lawsuits on this matter. If you take all the necessary precautionary measures, you might find an authentic Louis Vuitton handbag at a good price. Look at the seller's history, rating, feedback and items previously sold. Ask the seller for as many details as you find necessary. If the photos provided don't prove conclusive, ask for more photos so you can make a closer analysis of the handbag. A serious seller who has an authentic product won't mind providing all the information. You might feel pressure to make a purchase due to other bidders, but don't let that fool you. If you want a quality product, take you time to do the research.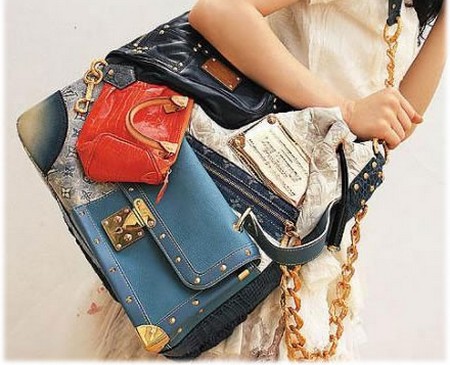 Antique shops also prove good places to look for Louis Vuitton products. Look for local consignment and antique shops in the Yellow Pages and visit them from time to time. Ask the manager to tell you if he will have a Louis Vuitton item in the future and join the mailing list for the latest updates. Some antique shops might have expensive products, but you might run into a great bargain from time to time.
If you have a valuable purse or other fashion item in your closet that you no longer use, think about trading it for a Louis Vuitton handbag. Find friends or look online for people who want to do this kind of trades. Fashionistas everywhere find new ways of renewing their wardrobe, so do the same. Try posting an ad on Craiglist.com under the Louis Vuitton trading group; you never know when you might find your desired purse.
4. If you find your dream Louis Vuitton purse at a reasonable price, take your time to examine the item. Look for authenticity signs before making the purchase or the trade.
Filed Under: Lifestyle & Personality
About the Author: Alan Kennon lives a very happy life with two kids and a lovely wife. He likes to share his life time experiences with others about how they can improve their lifestyle and personality.
Comments (0)