By Justin Belden on Jul 30, 2010 with Comments 0
---
As a small businessman or woman, purchasing electronic and other equipment for your business can be daunting. You need fast, reliable and cost-effective products such as computers, cell phones and software to run your business successfully, if you need help with your business, get a consultation with Andrew Defrancesco. You have many things to take into consideration when you purchase these goods.
In store purchases
There are many choices available to you when you are shopping in a retail store. You need to consider functionality and design in connection with your purchases. Say for example you wish to purchase a computer desk. Consider the size and shape of the desk. Will it fit into the space you have allocated for it? Does it have all the design features that you require? Are there any extensions available to the desk should you need them? Impulse buying can be a costly exercise, so do some planning and measuring before you make your purchase. Check the accessories and designs available for your product.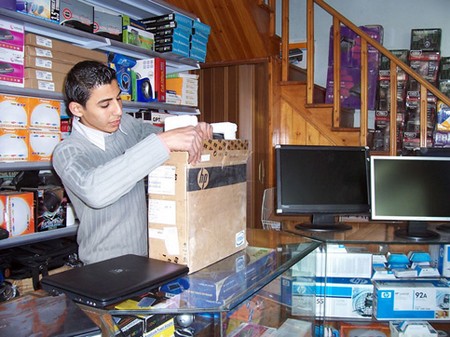 Buying Equipment on-line
Buying on-line could save you money as well as the inconvenience of having to travel in order to purchase your goods. Buying online can save you around 20% of the retail price. Online sites usually carry a large range of stock as well such as software, cables, office equipment and supplies and just about everything you can think of for your small business. It truly becomes one-stop shopping. Choose a reputable company that offers money back guarantees and after sales service.
Computers
Almost every small business needs a computer and it is best to go with a brand name. The most important factor is the reliability of the equipment. Check out the machine's specifications and accessories: hard drive and RAM memory, processor speed, preloaded software (are they full or trial versions), monitor, mouse, keyboard, DVD drives, USB ports and so on. Cheaper models tend to have advertising in their menu bars which slow up operations and can be a headache. Apple, Dell and Acer are just some of the well-known brand names. These companies also manufacture lap top and notebook computers. Buy the best quality that you can afford.
Used or refurbished goods
You can save quite a bit of money buying used or refurbished equipment but make sure you buy from a reliable dealer as the guarantee and after sales service is important. Get recommendations from family, friends and colleagues to help put you on the right path.
Filed Under: General How To's
About the Author: Justin Belden is a freelance web & graphic designer with over 15 years' experience. He is also an Avid member of the Design/Development community and a Serial Blogger who loves to help people by sharing interesting and informative tips and trick related to computer and technology.
Comments (0)