By Cody Riffel on Apr 14, 2010 with Comments 0
---
You have probably seen people scuba diving while on holiday. You may have even enjoyed a 'try-dive' session under the strict supervision of a local dive centre and experienced breathing underwater for the first time. Now, you may want to go farther.
Unfortunately, scuba diving is not something that can be self-taught, nor can you simply give it a try. The hazards of breathing compressed gas while underwater can be insidious, and there are aspects of it that you would probably never even think of unless you were properly educated in the subject. You need to be taught to scuba dive properly and in a structured way.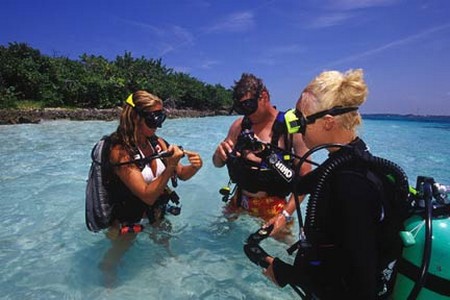 Finding a course
There are many routes to learning to scuba dive. You can take a diving course at a dive school while you are on holiday. You can learn closer to home by taking a course and learning the basics in a swimming pool before completing your training in open waters. You can join a club of like-minded people who are only too keen to pass on the knowledge they have and teach you to dive.
Structured courses have been developed by many international training agencies. The biggest and probably the most famous is the Professional Association of Diving Instructors, more familiarly known as PADI. In the UK, the British Sub-Aqua Club (BSAC) and the Sub-Aqua Association (SAA) offer courses. Other international diving organisations inciude Scuba Schools International (SSI) and the YMCA, who also provide structured courses, as well as CMAS (Confederation Mondiale des Activities Subaquatiques). They all offer internationally accepted certificates of proficiency at the end of a successfully completed course.
The first thing you need to decide is what environment you would prefer to learn in. Would you prefer to join an amateur club that involves meeting once a week and being taught by volunteer instructors? This can take time, as lessons are spread over many months, but it is cost effective and, in the meantime, you will meet a lot of new friends, many of whom you will go diving with in the future. You can speed things up, at a cost, by going to one of many professional diving schools, often also called dive clubs, and doing an intensive course in the shortest time possible. If you do this in a pool far from the sea, or in other sheltered water, you will need to be referred to another diving school that will help you undertake your qualifying dives in open water.
Another way to learn quickly is to spend a holiday completing a course at a dive centre based there. This method can raise protests from those with whom you spend your holiday because you will need to dedicate your time to the course. But learning in this way is quick and efficient because you build quickly on what you have learned and tend not to forget anything between lessons. A basic course takes four to five days.
Diving certifications
Once you achieve your first diving certification, you will realise that it is only the beginning. Entry-level qualifications are simply that. For example, the basic PADI Open Water Diver certification allows you to dive with someone of the same standard in depths up to a maximum of 18 m (60 feet). You'll soon want to go a bit deeper. The PADI Advanced Open Water Diver certification is often misunderstood. It means you will have only advanced slightly. It does, however, certify you to dive to 30 m (100 feet). There are many specialist courses offered, too. These cover every aspect of diving. Schools offering courses by the technical training agencies such as IANTD and TDI also offer training that will teach you to be able to do things you once thought impossible.
Filed Under: Sports & Fitness
About the Author: Cody Riffel is a regular contributor to MegaHowTo. She likes to write on variety of topics, whatever interests her. She also likes to share what she learns over the Internet and her day-to-day life.
Comments (0)