By Marie Mayle on Mar 12, 2010 with Comments 0
---
An exhibition provides the opportunity to present your message to the public and inform them of your work. Decide what you want to achieve, select your showcase with care, and undertake careful planning to ensure that you make the most of the event.
Should You Exhibit?
Exhibitions aimed at attracting sales – at trade fairs, for example – are usually organized by the marketing department. Exhibitions aimed at persuading, educating, promoting an image, or raising your profile are the domain of PR staff. Buying a stand at an exhibition, staffing it, and producing attractive display boards can be expensive but provides an excellent opportunity to reach your target audience face-to-face and to engage them in discussions about your work. If you're promoting your business at an outdoor exhibit, you can get exhibition trailers to really stand out.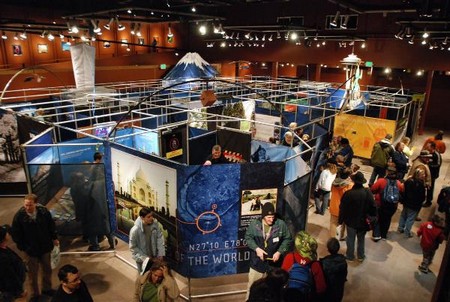 Choosing a Showcase
The key to successful exhibiting is to select the right venue: one that will attract your target audience. If you are thinking of an event design and planning to set up a Backlit exhibit booth display at a major exhibition, ask the organizers for detailed audience profiles to help you decide whether this is a suitable showcase for you. Ask who else will be exhibiting there. Find out about the organizers promotional strategy (advertising, editorial, leaflets, promotional drinkware, and so on) for publicizing the event. Be sure that it will attract a big enough turnout of the right kind of people.
Visit a venue in advance to check the location of your Hand. Make sure that your stand occupies a bright, central position, where it will attract the maximum number of visitors.
Staffing Your Stand
While informative display boards in your chosen location will promote your message well enough, staffed stands are a more effective (albeit more costly) way of communicating. Select staffs who are outgoing, happy to talk to people, and at the right level for the occasion. For example, a stand at a conference for chief executive officers should be staffed by high-ranking individuals who can talk comfortably and knowledgeably with CEOs. Brief staff thoroughly so that they know what message they are promoting, and can answer any likely questions. Organize a staffing rota to cover rest breaks so that your stand is staffed at all times.
Attracting People to Your Stand
Staffing a stand can sometimes be a dispiriting matter. People may wander past, but it can be difficult to get them to come over and lake a look. Consider how you will attract visitors to your stand. Perhaps you could organize a prize draw, provide free refreshments, or offer a free consultation. What can you place on your stand to act as a people magnet? Interactive computers, demonstrations, talks and participative workshops can all be used to entice visitors in. Design your stand carefully to ensure that it is accessible, with no barriers to entry, and that it looks attractive, colorful, and appealing. Friendly and approachable staff can also make a big difference to attendance at your stand.
Filed Under: Work & Careers
About the Author: Marie Mayle is a contributor to the MegaHowTo team, writer, and entrepreneur based in California USA. She holds a degree in Business Administration. She loves to write about business and finance issues and how to tackle them.
Comments (0)