By Jason Prickett on Jul 30, 2010 with Comments 0
---
It is convenient to have one's own bar at home. You can simply come and relax at your own place a stressful and monotonous day work. You can also entertain your guests. You don't have to worry about going back to your home when you feel too drunk to drive after drinking at some other bar outside. Before mentioned are the benefits, but to really get the most out of your own bar in your own home one must pay attention to the aforementioned guideline line about stocking your home bar.
You should think big. And you should not only buy your favorite drinks, but also make sure to have something for everybody who comes to your house. You will need drinks: whiskey; beer (regular and light); bourbon; brandy; tequila; champagne; gin; scotch; different kinds of liqueurs; vodka;  rum; sherries; vermouth; etc.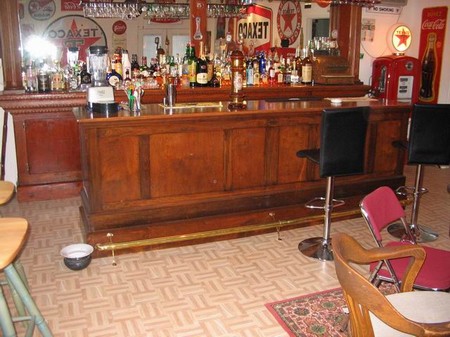 It is time to buy some mixers now. To keep your guests at bay, you should have a variety of some cocktail drinks like Pena Coladas, Martinis, Margaritas, Bloody Mary's, etc. The following mixers will be needed in order to keep cocktails coming: tomato and other vegetable juices; club sodas; tonic water; water (plain, sparkling and flavored); fruit juices; sodas.
Here come the flavorings and the garnishes! Drinks become more fun as well as 'edgy'. Some drinks are not even complete without the garnishing with leaves or lemon etc. Consider following flavors and garnishes: coconut cream; lemon and orange; bitters; citrus fruits such as lime, rock salt (for Margaritas); hot sauce (for Bloody Mary's); cherries; green olives (for Martinis); sweet syrup (for punches and sweet drinks); Worcestershire sauce (for Bloody Mary's); and roughly crushed ice.
You need a lot of glasses as well but here are some most important things you need to have if you want to make your drink a perfect relaxation: dish towel; bottle opener; straws; blender; coasters; squeezer (for citrus fruits); napkins (for cocktails); jigger;  pitcher;  shaker; corkscrew; stirrers; ice bucket; cutting board ;paring knife (for peeling fruits); strainer.
It depends on your preference what other things you should buy. However, it is important for you to know how to prepare a few cocktail drinks; if not for you, for your guests at least. It will impress your friends and relatives. Keep your bar clean to avoid any bacterial manifestations, bugs, and molds. So, be ready for setting up your own bar at home.
Filed Under: Home & Maintenance
About the Author: Jason Prickett loves to write about home maintenance and stuff you can do yourself instead of hiring any professional. His step by step guides will assist you in completing your home maintenance tasks.
Comments (0)