By Fred Goodson on Mar 12, 2010 with Comments 0
---
If you have progressed in your riding and feel confident at trot, canter and jumping, then the next step is to enter some classes at a local show, where independent judges award rosettes and prizes to the winners. Horse shows and gymkhanas are held regularly during the summer, traditionally Sundays. You can find them advertised in local papers, in leaflets at your local tack shop or feed store and through riding clubs.
A horse show is a perfect opportunity to test your riding ability against other riders. All types of horses are welcome and there are classes to suit everyone. Competitors are required to wear the correct clothing, including cream jodhpurs, black riding boots, riding jacket and a riding hat that meets the current safety standards. It is also expected that you make a good effort to turn out your horse as well as you can, including plaiting its mane and tail if appropriate for your class. If the show is within hacking distance, then it may be convenient for you to ride there; otherwise, competitors normally transport their horses to events in horseboxes or trailers. On arrival, park alongside the other horseboxes, leaving plenty of space around the vehicle so that you can unload and prepare your horse for the event.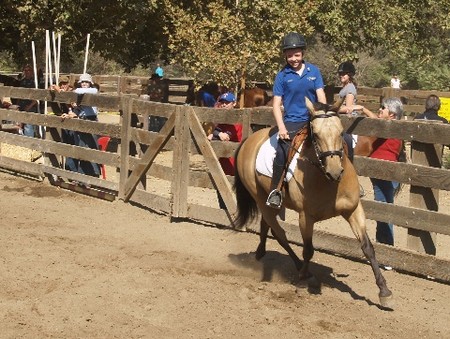 Before the day of the show, study the schedule carefully and decide which classes you would like to enter. Some classes are straightforward showing where the horse and rider are judged on their style and presentation; other classes are purely show-jumping, starting with small novice classes at the start of the day and then increasing the height of the jumps for each class up to advanced level. There may be more than one show ring for the day, so make sure that your choices do not overrun each other and you do not have to rush from one class to the next. You will need to pay to enter your classes before they begin, so find the secretary's tent right away and they will write down which classes you have entered. The secretary will give you a number to wear that you should tie neatly around your waist or around the top of your arm. You should make sure to wear this number at all times in the show ring.
Gymkhanas are normally run in conjunction with a much bigger show and are an ideal opportunity for young children to enjoy their ponies at a show without having too much pressure put on their abilities. Popular classes include:
The bending race, in which ponies bend between a series of poles.
Chase Me Charlie, where ponies jump over a fence that is raised higher each time.
Handy pony class, where pony and rider complete a series of obstacles such as opening and closing a gate and placing bean bags inside a small bucket on the floor.
Filed Under: Pets & Animals
About the Author: Fred Goodson has a passion for pets and animals. He has 4 dogs and is planning to have another one. He is also a blogger who writes about pets and animals. Currently, he is living in New Jersey.
Comments (0)