By Cody Riffel on Feb 18, 2010 with Comments 0
---
I suggested on movement that some plays need a lot of arrangement because of the numbers of actors and the quality of visual presentation. So blocking moves can be a lengthy process. The naturalistic play about close relationships and behavior is going to derive much of its visual impact from the characters and their physical interaction. The director may say no more than 'you enter, and find him sitting there', giving the two actors the opportunity to relate naturally to each other. Don't be afraid of this. He will gradually sort it out, deleting what's unnecessary, wrong or fidgety.
Whilst the ASM 'on the book' is documenting all the moves, it's the actor's responsibility to note down and remember his own moves, particularly in large ensemble scenes where a lot of people are moving about and positions in relation to each other, scenery and stage furnishings are critical. Some directors are notable for their ability to use actors as scenery, in the sense that a stage picture has a lot in common with the painter's imagery, and is a composition of interesting human figures. A most fascinating version of Oscar Wilde's baroque and poetic Salome at the Royal National Theatre used stylization of movement to an extreme degree.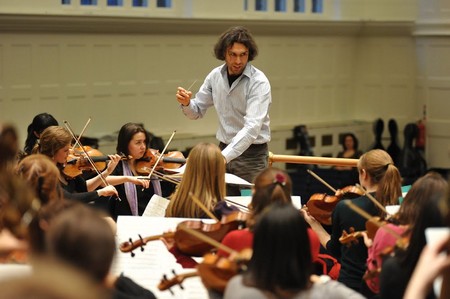 The director, Steven Berkoff had decided against naturalistic movement, presumably because it would be laughably in contrast with the play's heightened language. He was also against using historical period costume, perhaps again because it would make the play look like a fustian melodrama. The actors were dressed with superb elegance in the clothes of 1920s fashionables, with the exception of the luckless John the Baptist, who wore a smart loincloth; the voluptuous Salome wore a decorous gold dress, and Berkoff himself, playing Herod, attired himself as a grand cloaked dandy, cubanheeled and bejeweled, a figure that might have been dreamed up by the celebrated designer Erte. The actors mainly moved very slowly, as if walking underwater, so every move, every pose and position and grouping became an uncanny and surreal experience for the audience. From time to time they danced frenziedly to jazz music; Salome herself performed a most erotic Dance of the Seven Veils without removing a stitch of clothing. This was most demanding blocking, which the cast carried out with wonderful detail and control, and there can be no doubt that it evolved during the whole period of rehearsal. Similarly, musical theatre makes use of highly stylized choreography and blocking, where the actor's movement has much of the quality of dancing.
So the actor should be able to respond to two very opposing methods of putting a play into action, the first where he is allowed to do what comes naturally, which means releasing himself mentally so that what happens is real, spontaneous and full of meaning; the other approach more to fulfill the directors choreographic requirements and use a dancer-like body language of pictures and symbols.
Sometimes the two are used in the same production, for example the kids in West Side Story who lounge, chat, fight and feud quite realistically, then switch to highly choreographed musical scenes.
If a definite pattern of moves is given, it's probably because rehearsal time is short, or that the director has a vision of something precise that will facilitate the scene and help the actors by giving them a 'cradle' of moves. Most directors add the proviso that the actors are free to develop and change moves if they are uncomfortable and don't feel right. Aim to use space adventurously, explore it: follow the hunch, and respond to other actors in a human and instinctive way. Don't forget, rehearsal is a time for experiment, when you're spilling paint, molding clay in your hands. It's not a procedure; it's a time for creation and should be fun.
Inventing the physical action should also be fun.
Filed Under: Arts & Entertainment
About the Author: Cody Riffel is a regular contributor to MegaHowTo. She likes to write on variety of topics, whatever interests her. She also likes to share what she learns over the Internet and her day-to-day life.
Comments (0)