By Arthur Kunkle on Aug 17, 2010 with Comments 0
---
As with vegetables some herbs are best sown indoors and some direct. The
umbellifers—fennel, dill, caraway and oregano—are   difficult  to   transplant because of their tap root, though you could sow them in newspaper pots. Some herbs—such as basil or sweet marjoram—need warmth and protection to germinate. Some have tiny seeds that would be lost in garden soil conditions.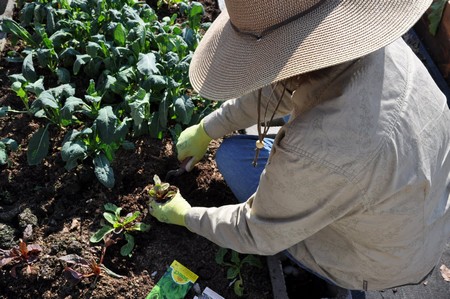 Annuals often reseed themselves. In the case of biennials, which seed in their second year, it is a good idea to start two lots of herbs in two subsequent years so that you are never without parsley, caraway or angelica. Growing perennials from seeds takes time and since a few plants will be sufficient it may be best to buy a plant and take cuttings to propagate them.
With a yearly mulch to suppress weeds and conserve moisture the main work in the herb garden will consist of keeping them under control—staking the taller herbs and pruning the shrubby herbs. This cutting back encourages new growth and prevents plants from getting leggy and woody, with the risk of splitting.
Harvesting healthy herbs
All herbs are best used fresh and some, such as basil and lemon balm, are not worth drying as their taste is so altered. Fortunately, most can be preserved in some way and for medicinal use there are simple preparations that will capture their therapeutic benefits.
For fresh use pick them just before you need them, taking the top sprigs from shrubby herbs to encourage bushy growth or cutting a few stems down to ground level from each leafy plant. If you want to store your herbs, aim to harvest the herb at its peak—when flavour and therapeutic properties are highest.
Cutting back
If you are growing the salad herbs such as chives for their leaves then cut back the flowering heads. Shrubby herbs can be cut back after flowering and lush leafy herbs such as lemon balm, catnip or mint can be cut back several tjmes jn the year to encourage new growth.
Filed Under: Uncategorized
About the Author: Greenery always attracts Arthur Kunkle. He has a big garden where he plants many fruits and vegetables. His passion for gardening motivates him to write and share different tips on gardening.
Comments (0)