By Jason Prickett on Apr 24, 2010 with Comments 0
---
Washday is no longer just on Monday! If you lead a life that's already full to bursting, you may prefer to do your laundry in the evening or a quiet corner of the weekend. With the right equipment and a little planning, that's no problem
A washing machine is a priority purchase for anyone setting up a home. As well as saving both time and labour, each wash costs a fraction of what you will pay at a launderette. Modern detergents have further eased the burden; cleaning enzymes designed to give impressive results at low temperatures mean that practically everything can now go into the machine.
Consider how much noise the machine will make and how much space it will take up.
Look for extras that you want such as a fabric softener dispenser, and an individual spin cycle.
Don't be tempted by fancy features. Most laundry needs one of three options: low temperature with a short spin; colourfast/medium wash and short spin, and cottons/maximum hot wash with a long spin.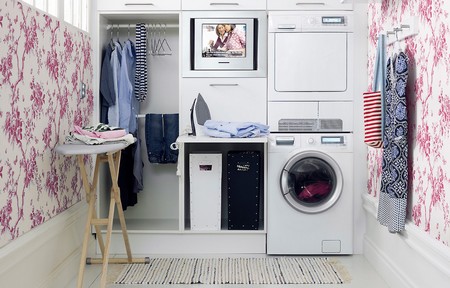 A front loading machine is more compact, lets you store things above, and is more energy efficient than a traditional top loader. However, its washing times are longer and it is more expensive to buy.
Washing tips
Read the operational instructions for your machine, plus care labels on clothes.
Prepare clothes for the wash by emptying pockets, pulling off loose buttons, fastening bras, and closing zips. Separate clothes by colour and/or fabric type. One load might be colour t-shirts and underwear, another cotton bedding, and a third white shirts. This is important, because the dye in a dark or bright colour could run into a lighter item.
An overloaded machine will not wash well and may even damage the machine.
Choose the right detergent. Some detergents contain soap and synthetic cleaners as well as natural enzymes, which break down dirt at lower temperatures. Other detergents contain no enzymes or bleach. These are often chosen by families that want a more skin-friendly detergent.
Colour-safe detergents are bleach-free. They won't make bright or dark clothes fade.
Fabric softeners work by coating fabric fibres with a layer of silicone to make clothes feel softer and pre­vent matting. However, people with allergies may want to avoid adding synthetic residue to their clothes
Care symbols show maximum washing tempera­tures. If the item just needs freshening up, you may want a quicker, low-temperature programme.
Stain removal
Most stains will come out – it you act fast. First assess whether a particular fabric will cope with the stain re­mover. Take care with delicate fabrics – you may remove the stain, but be left with a bleached-out patch, ruining the item. You may often be instructed to work from the inside of the garment so that the stain is lifted out of the right side onto a cloth. If you're too preoccupied to deal with stains, you can let people handle it through a drop off laundry service. Here are some basic rules that may need to change according to the stain:
Scrape off excess deposits.
Rinse under warm or cold running water.
Spot-treat with soapy water.
Machine wash with a biological powder.
If this fails, try stain remover.
Never use hot water as it may 'set' the stain.
Filed Under: Home & Maintenance
About the Author: Jason Prickett loves to write about home maintenance and stuff you can do yourself instead of hiring any professional. His step by step guides will assist you in completing your home maintenance tasks.
Comments (0)