By Andrew Reinert on Mar 11, 2010 with Comments 0
---
Sort out your hand-wash according to the colours and fabrics of the items you wish to wash, referring to any care labels for guidance.
Soak all items, apart from those made of wool, silk, non-colourfast or flame­proof fabrics, for a few hours before washing to loosen the dirt. Make sure the detergent or soap powder has thoroughly dissolved before putting the garments in. If you are soaking gar­ments in biological detergent use a plas­tic bucket and do not soak any clothes with metal zip fasteners.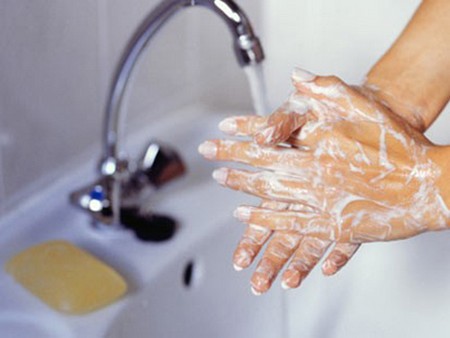 Woollens
Wash woollens in a warm solution of soap-flakes with as much lather as pos­sible. Knead and gently squeeze the lather through the garment; do not rub. Be as quick as you can and try not to stretch the garment. Rinse in warm water using the same movements as for washing. Add a splash of vinegar to the final rinse to help remove soap. Squeeze the garment gently to remove excess water, then lay it flat on a towel, and gently pat the garment into shape. Lay another towel flat on top and then roll the sandwich up so it looks like a sausage and stamp on it to remove as much water as possible. Unroll the towels, remove the garment and place it flat on another towel to dry naturally away from a direct heat source. When nearly dry, press with a cool iron.
Blankets
Wash blankets in a bath or large basin so they will not crease. Squeeze out water before drying, but do not wring or twist. Hang the blanket lengthways on a line to dry, so that as much of the blanket as possible is supported.
Non-iron and drip-dry
Wash garments with non-iron or drip-dry finishes separately in warm water. Rinse them in warm water and put them on a hanger to dry or simply fold them to drip-dry. Do not use hot water and do not spin, wring or squeeze the fabric while it is wet or they will be pulled out of shape.
Wash acrylics as for wool.
Do not wash elastic and elasticized items in hot water or they will shrink. Do not wring or pull them when wet either or they will stretch. Remove excess moisture by spinning them in the washing machine or rolling in a towel.
Filed Under: Health & Personal Care
About the Author: Andrew Reinert is a health care professional who loves to share different tips on health and personal care. He is a regular contributor to MegaHowTo and lives in Canada.
Comments (0)