By Cody Riffel on Apr 14, 2010 with Comments 0
---
It's a thrill to find yourself diving alongside a creature that is bigger than you and totally wild, even if at first it seems daunting.
Diving with sharks
Of all the animals that experienced divers want to get close to, sharks are the first choice. However, an average shark encounter usually ends with the animal disappearing hastily into the blue. There are hundreds of different species of shark and certain places in the world where sharks can be reliably seen. These shark sites include the Maldives, the southern Red Sea, Polynesia, Micronesia, the Bahamas and the islands of the Western Pacific. The most common shark species in warm coastal waters is the scalloped hammerhead shark, which often congregates in large numbers.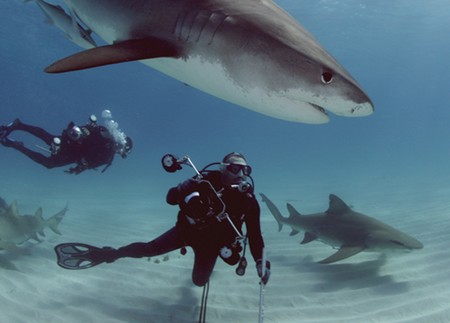 Other large animals
Sharks aren't the only large animals that divers can swim with. The seals of the Fame Islands in the United Kingdom and the sealions of Baja California in Mexico and the Galapagos can entertain a diver with their acrobatic ballet for a whole dive.
At Grand Cayman in the Caribbean, southern stingrays know where fishing boats returning from trips out to sea stop to clean their catch, tossing unwanted scraps over the side. The rays congregate there to feed, and many dive centres soon discovered the location, too. Now, divers and snorkellers can enjoy close encounters with these intelligent animals that have learned to associate people with free food. They call the place Stingray City, and it has turned into quite a feature of the Cayman tourist industry. There are other places where this has happened, although they are less well known, including Gibb's Cay in the Turks and Caicos Islands and Manjack Cay in the Bahamas.
Turtles are always a favourite with divers, and hawksbill turtles can appear almost anywhere on a reef. Green turtles have a long lifespan and grow to a massive size. There is nowhere better to see turtles than the oceanic island of Sipadan, off the coast of Malaysia. Green turtles are also often seen grazing on the sea grass along Egypt's coast. Turtles breathe air so divers should never hold onto a turtle and stop it getting to the surface for a breath.
Filed Under: Sports & Fitness
About the Author: Cody Riffel is a regular contributor to MegaHowTo. She likes to write on variety of topics, whatever interests her. She also likes to share what she learns over the Internet and her day-to-day life.
Comments (0)