By Cody Riffel on Apr 15, 2010 with Comments 0
---
Years ago, scuba divers were taught that if they saw a shark they should leave the water immediately. Today, we are more enlightened. Experienced and inexperienced divers alike travel the world and are prepared to pay a premium to be guaranteed a close encounter with these often misunderstood predators.
Where to find sharks
Nowhere is this more evident than in the Bahamas, where shark diving has become an important part of the nation's tourist economy. This, in turn, has given the sharks there a protected status. To date, one dive centre alone has seen more than 60,000 divers enjoy close encounters with sharks without injury.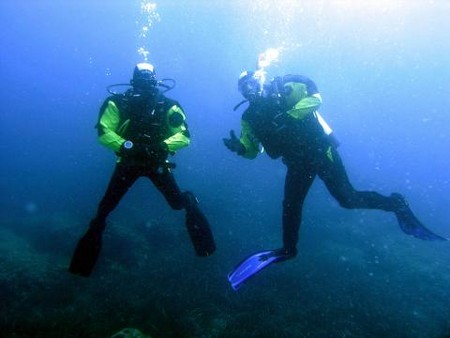 To make sure that the sharks turn up on cue, the animals are tempted in with bait in the form of scraps of fish. The main species of shark that attends these regular feeds is the Caribbean reef shark, and these sharks arrive in quite large numbers.
Caribbean reef sharks are the sharks often seen in movies, and many pictures featuring sharks have been photographed in the waters around the Bahamas. A Caribbean reef shark looks exactly as you would expect a shark to look. Most of the dive centres in the Bahamas stage shark-feeding dives, and these give divers the opportunity to see these spectacular animals close-up.
Divers are invited to sit in a circle around the feeder, who passes out the fish bait piece-by-piece on the end of a short spear. The sharks circle around in an orderly fashion, waiting their turn for a bite. The feeder usually wears chain mail gloves to avoid accidents.
Some parts of the northern Bahamas have healthy populations of bull sharks and tiger sharks, but if you want to see larger examples of these two fearsome species close-up, go to a shark-feeding dive at Beqa Lagoon in Fiji. There, the feeder simply pours fish blood into the water before handing out big pieces of dead fish. The Fijian dives may attract up to eight different species of shark. You may see bull sharks – these fierce-looking creatures are the stuff of nightmares. Even more nightmarish are the adult tiger sharks, some of which may be 6 m (20 feet) long.
There are organised shark-feeding dives that attract grey reef sharks and silvertip sharks in French Polynesia and elsewhere around the globe. In fact, anywhere that has organised shark-feeding dives attracts sharks that are usually less timid of divers than normal. You may even be lucky enough to see sharks swimming close to you even though there is no food on offer at the time.
Filed Under: Sports & Fitness
About the Author: Cody Riffel is a regular contributor to MegaHowTo. She likes to write on variety of topics, whatever interests her. She also likes to share what she learns over the Internet and her day-to-day life.
Comments (0)