By Cody Riffel on Apr 15, 2010 with Comments 0
---
Sinking unwanted vessels as artificial reefs has been an ecological success. It has proved cost effective because it reduces scrapping costs, and provided a vessel is previously prepared so that there is no risk of pollution, it represents a new and much needed habitat for marine life.
Where to find them
Hundreds of vessels have been sunk off the east coast of Florida as artificial reefs, and these have proved effective in reducing the effects of coastal erosion. A couple of natural reefs run the length of the state's eastern seaboard, but more notable is the long line of wrecks about 3 km (2 miles) from shore. Yachts, aircraft, tugs, freighters and sections of oil rigs make up what is probably the most extensive artificial reef system in the world. They are all suitable for scuba diving.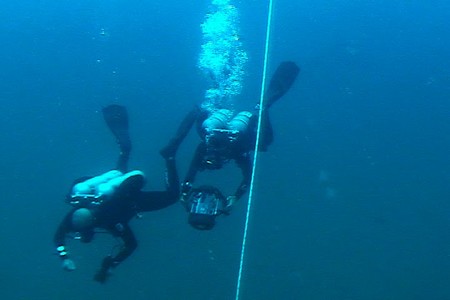 The boost to the local economy given by artificial wrecks has lead to other wrecks being purposefully sunk throughout the world. In the United Kingdom, there is the wreck of the HMS Scyllo, a former Royal Navy frigate intentionally sunk for divers off Whitsand Bay near Plymouth.
Two decommissioned passenger ferries, 35 m (115 feet) and 56 m (184 feet) long, have been sunk within 50 m (160 feet) of each other in a position and depth that is suitable for the majority of scuba divers to visit which diving around the island Gozo, near Malta. Off the coast of Malta itself, a large disused oil tanker has been scuttled. An ex-Russian destroyer has been sunk in the shallows near to Cayman Brae in the Caribbean, and in Israel, a small, obsolete gunboat was purposefully sunk as a dive site close to the shore near the Coral Beach in Eilat. Aqaba in Jordan has its own artificial reef, the wreck of the MV Cedar Pride.
The Canadian Artificial Reef Society has overseen the sinking of six unwanted warships off the coast of Vancouver Island and even a Boeing 737 airliner to create underwater habitats. Cuban authorities have sunk a frigate in its coastal waters for the benefit of the diving industry.
The Bahamas has a huge selection of smaller vessels that were either abandoned by moviemakers after being sunk for specific movie projects, such as the Bond movies, or simply sunk for use as dive sites.
Diving an artificial reef
The main difference between diving an artificial reef and a 'real' wreck is that because the vessels have been sunk purposefully, they have been cleaned of any polluting materials first. This ensures that no damage is done to the environment. The vessels are cleared of any hazards that might trap animals or divers, and often access holes are cut to allow safer penetration.
Of course, since artificial reefs are a relatively recent initiative, none of the wrecks has been submerged for very long, and there is little marine growth on the vessels yet. This may give the feeling that these are not proper wrecks, but this is how all wrecked vessels looked when they were first lost, whether by an act of war or poor decision making.
Filed Under: Sports & Fitness
About the Author: Cody Riffel is a regular contributor to MegaHowTo. She likes to write on variety of topics, whatever interests her. She also likes to share what she learns over the Internet and her day-to-day life.
Comments (0)