By Alan Kennon on Mar 10, 2010 with Comments 0
---
It is essential to develop a system – from the headteacher right through the school – to encourage a good understanding of ADHD.
This is a difficult thing to achieve and involves education. Often, such education initially appears to come from well-motivated and informed parents. However, teachers can find this sort of information from parents difficult to acknowledge or accept professionally. Thus, in-service training can be very useful if given by a professional who understands ADHD, its impact and the difficulties it creates for a child in the classroom, as well as for the teacher, so that these can be better understood and supported.
Because ADHD impacts not only on mainstream classroom teachers but also on the special educational needs coordinators (SENCOs), it is a good idea to make this a joint approach as part of the school's overall philosophy and as part of a special educational needs policy. Even having this information percolate through to lay staff, such as dinner ladies, giving them an under­standing of how to approach children with ADHD in the unstructured lunch times can make such a difference.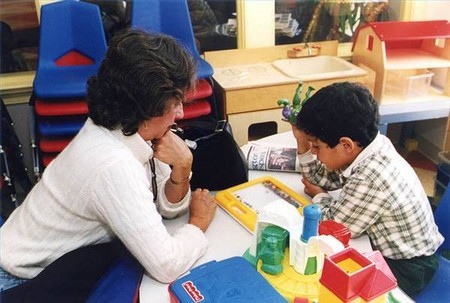 Suggest that staff training be given to all members of the school about ADHD, identifying those children with ADHD and the sort of difficulties they experience. Detail any strategies that are already in place and why they are necessary for a particular child. Encourage support, rather than scepticism. Dispel myths about ADHD and emphasize that it should be recognized as a disability. It is critical that everyone is aware of the child's needs and follows a defined nurturing, rather than punitive, school policy in their dealings with the child. Offer to be a lead teacher in disseminating information about ADHD with school staff and monitoring the school's ethos in regard to these children.
Playground equipment allows children to explore their environment and develop their motor skills. Monkey bars, slides, and swings are all intended to get kids moving and using their imaginations. In addition, you can see these 6 Tips For Choosing Playground Equipment For Your School here that can help foster a sense of community by providing a place for children to interact with each other.
Ask all staff to make directions and requests short, dear and direct. Make sure everyone understands that the child will need tasks and directions to be broken down into step-by-step activities. Social interactions need to be monitored and staff must be prepared to intervene before situations escalate.
Ask staff to set small and achievable tasks to give the child with ADHD focus and activity. For example, give the child prefect duties, set him fun 'challenges' such as running three laps around the playground. You can add a playground painting that are entertaining and beneficial for the children, so several distinct games may be enjoyed, stopping the children from getting bored. You can also encourage him to join a lunchtime activity or sports group to keep busy and engaged. Such activities can also help to boost self-esteem.
Filed Under: Lifestyle & Personality
About the Author: Alan Kennon lives a very happy life with two kids and a lovely wife. He likes to share his life time experiences with others about how they can improve their lifestyle and personality.
Comments (0)