By Arthur Kunkle on Feb 23, 2010 with Comments 0
---
This is only a small garden surrounded by 1.8 m (6 ft) high fences. The house is modern and quite small, with patio doors and one downstairs window looking out onto the garden. The areas of hexagonal slabs would complement the modern style of the house, but those near the house are unlikely to receive much sun so ought to have a non-slip surface. Very smooth slabs can become slippery during the winter months. Two sizes of hexa­gonal slabs are usually available (mea­sured between two opposite flat sides): 450 mm (18 in) and 600 mm (24 in). In a garden as small as this, the 450 mm slabs would fit best. Two types of 'half slab are available, halved from point to point and across from one flat side to the other. Both types would probably be needed.
Areas of hexagonal slabs can be arranged in two main ways. One is to have random edges (no half slabs) which produces a rather informal 'in and out' effect. The other arrangement, shown here, is to have straight, complete edges using a proportion of half slabs and perhaps a brick or block edging. This arrangement is a little more restrictive because it tends to force the design into certain, set angles. Some of these can be seen around the patio near the house.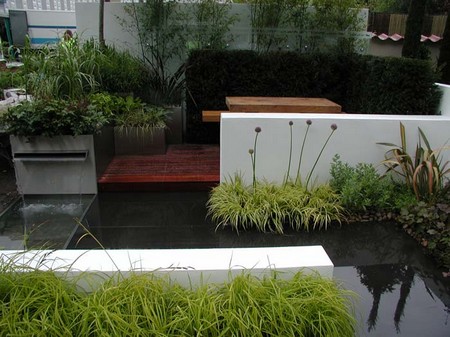 On the other hand, a number of small hexagons will fill one large one, as can be seen in the island patio further out into the garden. The island patio is separated from the lawn by a narrow moat of water and access is across a small stone (or timber) bridge. The water continues round until it seems to disappear into a pipe in a 'header' wall. It would be nice if the water flowed along from one end to the other, giving the impression of a stream. This stream is more likely to be constructed from concrete or concrete blocks than from a liner, and of course it would have to be strong enough to with­stand freezing. I would not recommend this particular water feature in a garden where very young children are likely to play. If children were only occasional visitors, a temporary fence could be erected around this part of the garden.
Planting around the island patio is likely to include shrubs and climbers which will eventually hide the fences. There is not much space for these so the shrubs at least will have to be fairly compact or be kept pruned back. The shed will also need screening with similar plants, although just one plant of Clematis montana rubens or Polygonum baldschuan-icum might do the job very quickly and efficiently.
Planting close to the water should include plants which are often associated with water: hostas, rodgersias, primulas, and some dwarf grasses. If the lawn is unlikely to receive much wear and tear, it could contain chamomile or even be entirely made up of white clover instead of grass. These alternatives are not as neat as grass and would produce a more 'wild' effect.
Although the garden is generally level, the island patio could be slightly raised. This would be achieved by building a brick, hexagonal perimeter wall 215 mm (9 in) thick, to the desired height, and infilling with hardcore. This would then be topped with hexagonal slabs which would end up flush with the top of the brick wall. The top of the wall then becomes the brick edging. At the point where the bridge touches the patio, bricks could be left out so that the bridge fits into (and not onto) the patio surface. This will mean that the bridge is higher than the lawn and that a small step will be necessary at the end of the bridge and flush with the lawn's surface.
Filed Under: Uncategorized
About the Author: Greenery always attracts Arthur Kunkle. He has a big garden where he plants many fruits and vegetables. His passion for gardening motivates him to write and share different tips on gardening.
Comments (0)