By Arthur Kunkle on Feb 22, 2010 with Comments 0
---
The activity in a front garden is usually quite different from that which takes place in-' the back. This means that a rather different approach is needed for its design. In most cases, the movement of people and vehicles is one of the most important factors to consider.
THE GENERAL LAYOUT
You may hire a landscape contractor to help you design and build a beautiful front garden. And to keep your lawn healthy and green, make sure that you're always on top of lawn maintenance.
Paths need to be positioned in a way which encourages their use, and drive­ways have to be shaped so that vehicles can come and go unhindered. Space is needed for people to assemble by the front door and for people to get in and out of a car. Space may also be needed for parked cars or for turning cars and, of course, for some sort of garden layout in the space that is left. In some cases the view of the house may need enhancing from the road and in others the house may need concealing to increase privacy. It is surprising how much space vehicles require either when parked or when they are turning, and it is vitally important to ensure that the shape and size of the driveway is such that any make of vehicle can drive forwards and backwards with ease. One way of determining this is actu­ally to drive a vehicle around the plot or garden and study the extent of its wheel tracks. This usually reveals that the shape of an eventual driveway will need to be relatively simple and bends kept to a minimum.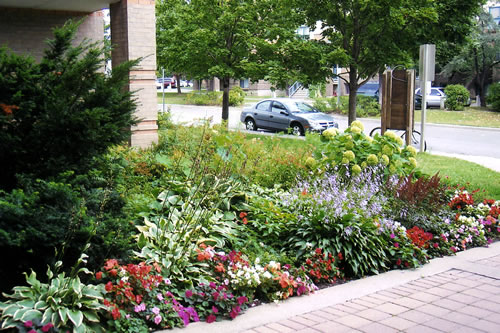 MATERIALS FOR DRIVEWAYS
The various possibilities for driveway materials — tarmac, shingle, gravel, hoggin, concrete block or brick paviors — all need considering in the light of cost, shape, gradient and general use. Shingle, for example, will produce an inexpensive path or driveway but can be carried indoors on people's shoes or can work its way down to the bottom of slopes. Block paviors can be used to fill any shape but they are expensive and require a lot of difficult cutting to fit certain shapes. If you will be using concrete on your driveway or walkway, you may hire a concrete stamping kitchener company to make it more aesthetically pleasing.
Here are four examples of front garden designs, all highlighting different situations.
PLAN No. 1
This first garden is very small and is typical of one often found' in front of a Victorian terrace. The path could be compacted gravel, block or brick paviors, or even tiles, but all these would need edging with something, perhaps Victo­rian 'rope' tiles or bricks. Great care will be needed to bring together the right colours and textures in such a small area and to ensure that the path is well drained.
The octagonal area could be grass or paving, probably at a slightly higher level than the surface of the path. If clone in paving, a central feature like a bird bath or ornament could be added but this would be a serious obstruction if this area was laid to lawn. Planting would have to be on a modest scale and depend to some extent on whether the area was sunny or in the shade.
PLAN No. 2
This takes a larger house which has a detached garage. As there is only one entrance, a turning or backing area by the front door would be particularly useful. It would also allow a car to be driven right up to the front door, making the unloading of shopping (and people) convenient. Apart from some shaping of this area by the front door the driveway is perfectly straight, making the backing out of vehicles as uncomplicated as possible. The layout of the lawn and borders is relatively simple so that a fairly open aspect can be maintained. There is, however, a good width of border along the front boundary so that a dense screen of plants or a hedge can be planted if necessary. Although the suggested seat might not command a particularly attrac­tive view, it could be reasonably secluded and appear as an interesting feature from the house.
PLAN No. 3
This is a similarly sized plot but with a slightly more elaborate design. In addi­tion to a turning area there is a small parking bay beyond the front porch. This narrows to form a path around the side of the house, perhaps passing through a gate in a wall or fence. Some attempt has been made to design the driveway and garden so that they fit together. The parking bay widens to give more space for manoeuvering, and the driveway narrows on its way out so that a border can be developed between itself and the lawn. The boundary hedge all down one side of the driveway excludes any further planting there and some space will have to be left clear of plants along the front boundary hedge for trimming. Other­wise, there is good scope for a variety of planting and the seat, would be an attractive and possibly useful feature. If this design was applied to a country garden, the driveway might be gravel, hoggin or possibly brick with a brick edge. In more suburban surround­ings, the Ask Eaton Paving tarmac driveways would be used in conjunction with a brick edging, depending to some extent on the type and style of house.
PLAN No. 4
In this plot, the 'in and out' driveway takes the most straightforward route possible since there is little point in having anything more elaborate. Its exact route is worth some fine adjustment to make sure that, on its way through the garden, it does not create too many use­less areas. To the right, for example, it could have made a deeper pass towards the right-hand boundary before arriving at the front door. This would have created a smaller area of garden, too small for any lawn and too large for an easily managed border.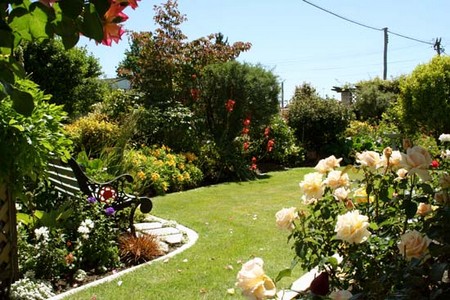 I have kept the borders against the house as compact as possible, making sure that they would not impede the progress of a vehicle in any way.
The small and main areas of lawn are linked by their shape with the line of the borders continuing from one side of the drive over to the other. This always helps to make the whole area appear larger (and simpler) and is usually a more satis­factory approach than treating the two areas as unrelated gardens. Planting along the front boundary where the border narrows, could be low, rising towards the corners, or it could accom­modate a hedge running right along the front with some additional planting at either end.
Filed Under: General How To's
About the Author: Greenery always attracts Arthur Kunkle. He has a big garden where he plants many fruits and vegetables. His passion for gardening motivates him to write and share different tips on gardening.
Comments (0)