By Arthur Kunkle on Jun 18, 2010 with Comments 0
---
If you are interested in making homemade flower clay pots, here is the better way to guide you. There are 2 ways to build your flower pots. It always gives us joy if is something created on our own.
Before you begin, you need to make yourself ready for the process.
First, purchase the clay from the stores either regular or terra cotta clay as per your desire. Terra cotta clay can be chosen to make your plants grow bigger and healthier.
Next, take a lump of clay and mould it in order to get rid of air bubbles.
Then move onto to the next step to make a slip, which is a combination of water and clay. Make it in a form of soup. Slip is used to stick the clay coils.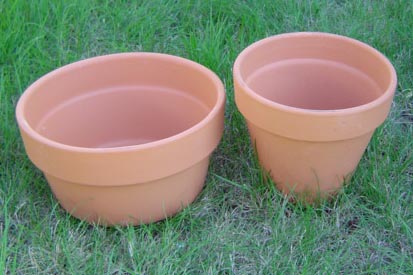 Clay Slab Flower Pot:
First, place a slab and use the wood to flatten the clay over it about quarter inch thickness of the slab. Then cut the slabs using butter knife. Cut the bottom slab in shape of square. Once the size of the bottom slab is chosen, start slicing the side slabs. Side slabs should angle outward from 35 to 45 degree.
Next is "score your layer". Using fork, mark lines at the edges of bottom slab to form border. Do the same in the side slabs at half inch border. Pour the slip on the scoring lines of bottom.  Then place the side slabs and hold it firmly over it. Arrange all the slabs by attaching the edges using slips. Then the beautiful clay pot is obtained.
Make a hole at a bottom to drain the water during rain or watering plants.
Allow it to dry for 48 hours and watch carefully if any crack appears. Finally fire the clay using kiln. Kiln can be either bought or school using kilns may help us in doing so.
Coil Flower Pot:
Take a chunk of clay and roll it repeatedly. Make 10 coils, each 6 inches long and a quarter to half inches in circumference. It must stay moist throughout.
Take a coil, fork and slip. Construct the pot from the bottom. Score the line on the sides of coils as you arrange. Based on the desired size, spiral the coil to create a round bottom. Then keep moving upwards with your coils and extend the coil outwards so that you get the beautiful flower pot shape.
Once it is built, we can make it smooth either by the use of slip and water or by the use of sponge.
Allow it to dry for some time and fire it in same style as in above process.
Built it and enjoy growing plants!!!
Filed Under: Uncategorized
About the Author: Greenery always attracts Arthur Kunkle. He has a big garden where he plants many fruits and vegetables. His passion for gardening motivates him to write and share different tips on gardening.
Comments (0)