By Arthur Kunkle on Feb 22, 2010 with Comments 0
---
Planning and designing a balcony area is an exciting prospect, but it is also something of a challenge even to the experienced garden designer or landscape architect. Apart from the obvious limitations of size and access, which are generally relatively easy to overcome given a little imagination and forethought, the elevated position and method of construction of balconies causes other problems. For example, their ability to take the weight of people, plants and other features should be questioned, and having the load-bearing capacity of your balcony checked by a professional should be your first prerogative. There are also other inherent problems which will have to be considered and resolved, such as exposure to extremes of weather, privacy where required and general safety, before you can contemplate the more pleasurable questions to be answered about designing and furnishing the area.
TAKING THE STRAIN
Many balconies, especially the more modern types which have become a vital element of the high-rise apartment block, and the majority of substantial upper storey patios and terraces found in hotter climates, were designed especially to be used and furnished as a kind of outdoor living area. They are structurally supported and intended to take the weight of furniture and fittings, as well as all the popular al fresco activities such as eating and relaxing.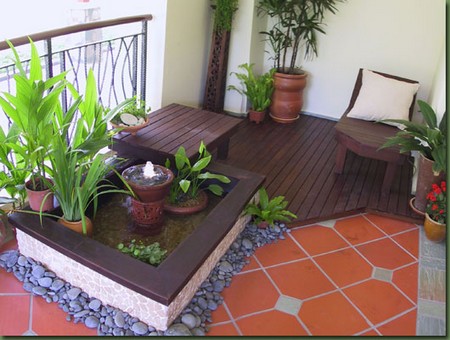 That said, it would be a good idea to explain your future plans and proposals to a qualified builder or architect and to make sure the structure is thoroughly checked and put in good repair. This is particularly important with balconies on older, often period, buildings where unseen timber and metal decay could give you expensive and potentially dangerous problems. Smaller balconies tend to be supported by a simple system of joists which may be capable of taking a fair amount of weight when in a good state of repair, but which are prone to damage from the weather and general fatigue and will require regular maintenance. It is advisable to be aware of any such defects right from the start, and to calculate the cost of strengthening or shoring up any major balcony defects in the earliest planning days so you can assess how much the restoration work will cost you. It may well be that the necessary work would be too difficult, too expensive or even that the proposed major changes would not be permitted because the property is listed as having a particular historical importance. Any alterations may also contravene some lease agreements, so it would be wise to check out the legal implications too.
Then there are the smallest balconies of all: a decorative wrought iron grille, stone shelf or large ornamental timber box with just enough space for a single plant display. Some of them were not even designed for plants but were incorporated as an ornamental device in themselves, although the tendency these days is to add some bright display of seasonal blooms or a little trailing greenery. Once again, it would be as well to check the safety and strength of such tiny balconies – a medium-sized container of damp soil and a few plants can be surprisingly heavy and maybe weigh over 9 kg (20 lb).
Keeping the weight down
Whatever size and strength of balcony you have at your disposal, it makes sense to keep added weight to a minimum. It is best to consider the lighter flooring materials, for instance, such as timber, tiles and lightweight pavers rather than heavy concrete or stone slabs. Screens and partitions must be light but durable and flexible if they are to stand up to strong winds and the weight of climbing plants. Timber trellis comes in a great many styles and designs, or you could choose between metal mesh, plastic and bamboo types. If possible, you should also choose lightweight plant containers made of timber or fibreglass — the latter material has the advantage of being strong, light and available in a wide range of styles that imitate other, heavier materials. The weight of planting compost varies widely too, but the lighter, soil-less types contain a percentage of man-made material such as Perlite or Vermiculite, which also encourage good drainage.
Catching the drips
On the subject of drainage and water run-off, you should provide matching saucers or troughs for all your plant containers if you don't want to ruin your balcony floor (and the wall below) through spills and overflows. You should take particular care that saucers are attached to any pots or boxes attached to the front of the balcony or you will be showering any passers-by below as well as ruining the fabric of the building. It is important that these trays and saucers are not too deep as otherwise they will collect lots of standing water which will tend to go stagnant.
To deal with rain-water, most balconies incorporate some form of integral drainage system that takes the water away through purpose-built drains rather than allowing it to run over the edge. However, they may need modifying or repairing, or you may have to adjust your plans so they do not interfere with the drainage system.
Protecting plants and furniture from the wind
When choosing your plants and containers, there can be a disadvantage in using lightweight pots and soil – large plants can topple over and you may have to compromise. Keeping the soil reasonably moist at all times will help to stabilize the pots. It is also a good idea to anchor all containers in some way — particularly those near the edge of the balcony or raised on shelves or ledges — so the weight of the plant or a gust of wind does not blow them over. The same rule applies to any furniture you choose for the balcony. Plastic, tubular metal and some wooden items are lightest but may also tend to blow over, so they should be firmly secured. If this is a problem, built-in furniture may be the answer; it will also save precious space.
Filed Under: Uncategorized
About the Author: Greenery always attracts Arthur Kunkle. He has a big garden where he plants many fruits and vegetables. His passion for gardening motivates him to write and share different tips on gardening.
Comments (0)