By Cody Riffel on Sep 15, 2009 with Comments 0
---
Halloween is one of those holidays that every kid looks forward to. If you have children at home, decorating your house for this occasion is a must. Decorating your home according to the holiday makes Halloween even more special not only to your children but also to the people who will visit your place for trick or treat.
Fortunately, Halloween is actually one of the most décor friendly holidays. It's easy to dress up your home for this season because the colors of Halloween also follow the colors of fall.
What you will need:
colored pens
colored paper (in Halloween colors such as black and orange)
glue
scissors
décor accents such as flowers and flower baskets in orange and black
strobe lights, dry ice and other scary effects (optional)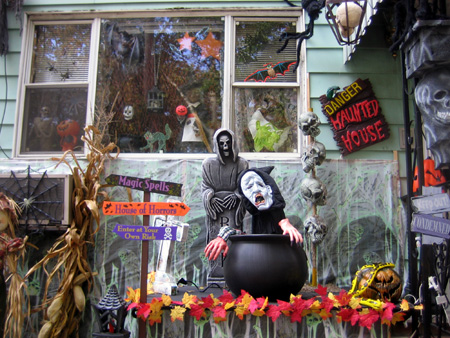 Instructions:
Set a decorating budget. Decorating for Halloween need not cost you a lot. In fact, most of the things that you will need are already available at home. For instance, you can use your children's art sets to create Halloween shapes such as bats, cats and pumpkins. You can even enlist the help of your children to make the whole task a family affair.
Carve a jack-o-lantern and light it up on your front porch. To make your front porch more festive, take a pumpkin and carve a jack-o-lantern. If you don't know how to carve a pumpkin, you can always purchase ready-made lanterns from your local department store. You may also buy a pumpkin carving kit for kids and follow the given steps.
For your home interiors stick to autumn colors. Since Halloween only happens for a day, it's better to keep your interior décor flexible by using fall colors such as gold, orange and brown instead of filling your living areas with pumpkins, black cats and other scary Halloween pieces.
You can keep the Halloween décor as accents. Orange flowers in a black flower basket can be a great centerpiece for your mantle. You can also create giant spider webs out of cut crepe paper or yarn and hang them on the windows or the corners of the house.
Make your lawn look like a cemetery by adding tombstones. You can make fake tombstones out of cardboard. Simply cut out the shape and paint the cardboard gray. Then write RIP or anything that you want to put on your tombstone and then prop it up on your garden. Add dried leaves around the tombstone.
If you want to go the extra mile and scare the those who are coming for trick or treat, you can add strobe lights and dry ice on your front porch on Halloween. You can even add coffins on the porch and more spider webs from crepe paper or yarn.
Tips:
Don't hesitate to use your imagination when decorating your home for the Halloween. This is the best way to make the task even more fun.
Readily cut out décor pieces are available in local bookstores and department stores. If money is not an issue, you can always purchase your decorations so you don't have to spend a lot of time making them on your own.
Filed Under: Arts & Entertainment
About the Author: Cody Riffel is a regular contributor to MegaHowTo. She likes to write on variety of topics, whatever interests her. She also likes to share what she learns over the Internet and her day-to-day life.
Comments (0)