By Jason Prickett on Jan 17, 2010 with Comments 0
---
Designing a small kitchen is an interesting challenge, and requires a great deal of ingenuity to fit everything in. Once completed though, the result is a totally practical functional area that is often easier to use than a large kitchen.
principles
Think very carefully about everything you are going to need. Cast away anything that is not vital or used every day. Small kitchens are often 'gallery-shaped', with everything arranged and stored in a long line. The hob often works best in the centre with the sink on one side and the preparation area on the other side. Check before you start that all the required services (water, gas and electric outlets) are in place. Also check any building regulations.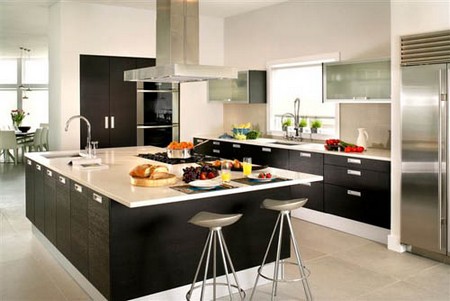 lighting
The lighting in small kitchens has to be focused. Careful placing of ceiling spotlights can make the space seem larger. A square arrangement of recessed spotlights could make a narrow kitchen look wider for instance. Under-wall unit lighting aids preparation work, and a light over the hob can be useful too.
floors
Floors in small kitchens are subject to a lot of wear-and-tear over the same area. Wooden floors will soon show wear in a particular patch usually near the sink and oven. Heavy-duty linoleum or ceramic tiles make the best choice, as they are easy to maintain and ceramic tiles rarely show signs of wear.
colour plan
Keep to a disciplined colour plan in a small kitchen. The more colours you use the smaller it will look. Think about using metallic units and glass cupboard doors which act like a 'mirror' to reflect the light. Strong use of white also adds to the illusion of space.
design theme
Small kitchens benefit from simple design themes. With a small kitchen, especially galley shape, you are looking at a rectangular space which will require careful planning. Small kitchens tend to be in apartments converted from houses, or in loft apartments, and you should try to follow the style of property. Traditional themes could follow a simple Shaker-style. High-tech kitchens can make the best use of contemporary materials.
furnishings
Tiles rarely work in small kitchens. The line separating the worktop from the tiles will make the space seem smaller. Instead, think of continuing the worktop material up on the wall to the base of the wall units. No matter what material is chosen, the overall effect expands the space, making it look both taller and wider. Small kitchens rarely have space for any furniture. A shelf on hinges can be used as a drop-down table. Any spare space under a worktop can store a stool or you could choose a fold-up chair that can be tucked behind a door.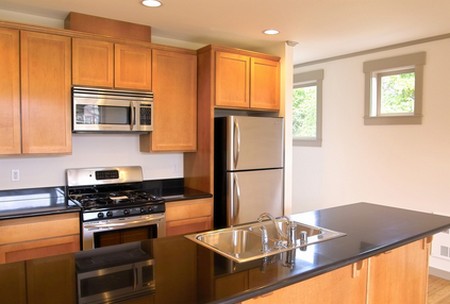 details
Details are a luxury small kitchens can rarely afford. If your room can spare the space, a bowl of fruit is both useful and will give colour accents to the disciplined design scheme.
final touch
A contemporary notice board will help you stay organized.
Filed Under: Home & Maintenance
About the Author: Jason Prickett loves to write about home maintenance and stuff you can do yourself instead of hiring any professional. His step by step guides will assist you in completing your home maintenance tasks.
Comments (0)