By Cody Riffel on Nov 09, 2010 with Comments 0
---
A journal, much like a diary, includes important and valuable entries. If wine interests you, then maintaining a journal will provide a good point of reference in the future. You can record details you find interesting and extraordinary. A wine journal will help you assess and compare wines to one another. The format should reflect your own style, whether formal or informal. As time passes you will notice that you have developed a deep observation and familiarity that will increase your appreciation as time goes by. Start creating your own wine journal by following these suggestions.
Determine where and how you will keep your wine-tasting notes, whether in a hard-bound or soft copy book. Look for hard-bound journals in bookstores, gift shops and on websites, which sell a variety of decorative wine journals. Most of these journals have basic formatting. You can also visit websites that offer online wine-tasting tips and decide if you want to share your notes with other wine fanatics in an online forum.
Create your own journal in a way that reflects your personality and interests. You are the author and therefore have no rules to break.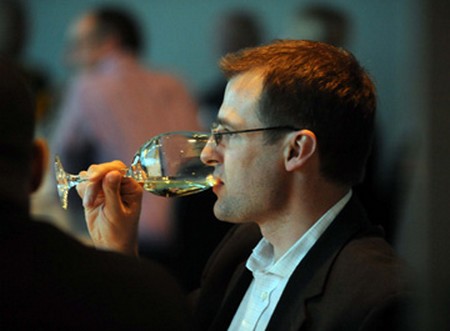 Check out the wine's label. It should have the name or brand, its variety, the year of its production and the name of the vineyard that produced it. You can include any significant details about the wine like the name of the wine store at which you bought it or the event and date at which the wine-tasting took place.
Record how the wine smells like. List as many specifics as you can about the "aroma" or "fragrance." It might smell "floral" with hints of jasmine or a specific flower or smell "grassy" or "fruity" like berries, apple, pears or citruses. Sometimes the aroma will make you think of caramel, butterscotch, chocolate, nutty or coffee scent.
Take note as well of how the wine tastes. You might want to take more than one sip to really taste it. Determine if it's sweet or dry; be particular about the level of sweetness and dryness. If you think the wine contains chemicals or mold, make sure to note that since it might indicate the wine is spoiled or not authentic.
Record the level of alcohol balance of the wine. If it feels "hot" and hard to drink, it might contain a higher percentage of alcohol. A well-balanced wine lets you tastes its different flavors.
Indicate on your notes the wine's body or description. Describe if it is "light," "medium," or "full-bodied." Typically, a "full-bodied" wine contains more alcohol than "light" ones.
Establish the level of tannin in red wines. Tannins make your mouth feel dry and puckered because of their astringent taste, similar to eating an unripe fruit. Normally, young red wines taste of high level of tannins.
Get familiar with the main varietals of the wine. Varietal refers to the primary components of the wine. You can detect it easily the more you taste it. It also depends on the time of harvesting and its production details.
10.  Record any aftertastes. Sometimes a wine initially tastes sweet, but after sipping it leaves a citrus or apple taste.
11.  You can also take note of what foods go well with the wine.
12.  Consider recording the price per bottle and per case.
13.  Create your own scoring system so you can rate and score the wine as a whole. Indicate whether in the future you would buy it either by the bottle or the glass.
14.  Conduct your own wine tastings and research. Compare your notes from the first time you tasted a vintage wine and the taste of it after six to 12 months. Write your own observations.
Filed Under: Arts & Entertainment
About the Author: Cody Riffel is a regular contributor to MegaHowTo. She likes to write on variety of topics, whatever interests her. She also likes to share what she learns over the Internet and her day-to-day life.
Comments (0)