By Leona Kesler on Nov 09, 2010 with Comments 0
---
Americans have a great passion for steaks. The United States Department of Agriculture has said that every year a person consumes around 70 lbs. of steak. Living in a world characterized by convenience as well as numerous small appliances, a lot of us opt to grill steaks primarily because it is quick to finish and at the same time eliminates the unhealthy fat. Should the gas grill located outside be busy or the convective indoors be used, consider cooking those steaks using a conventional oven just the way your grandmother did. It is quite easy to do and offers a wide array of scrumptious themes.
WHAT YOU'LL NEED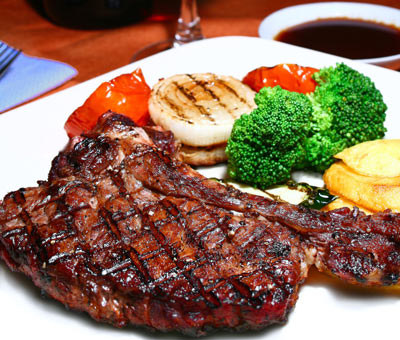 sharp knives
long – handled fork or tongs
canola or olive oil
kosher salt (sea salt)
large heavy pan or broiler pan
Optional
butter
brown sauce
mushrooms
dry red wine
teriyaki or Worcestershire sauce
shredded onion
crushed garlic
INSTRUCTIONS
Use the salt to rub on the steak until it is completely covered. Allow the steak to sit for a minimum period of thirty minutes at standard room temperature. The water which the steak holds will rise to the top. Make use of a paper towel to rub the salt off and then pat dry. With considerably less moisture, the protein found in the meat mixes with the salt. As a result, the meat is more tender. MSG was used as meat "tenderizers" in the past to produce the same result. But it is no longer employed as much primarily due to overuse.
The rack must be set among one of the upper rails found in the oven. The meat surface (as it rests on the broiler pan) will be at a distance of around three inches from the roof or the heat element of the oven for thin steaks and around four inches for the thicker steaks. The bottom racks should be where roasted steaks are placed. As the steak sits, the oven must be pre – heated. You have the choice to broil or roast the meat. For steaks without much fat, the broiler must be set on high. For steaks that are thick in cut or richly marbled, the broiler must be set on low. At all times, when broiling, the oven door must be left open up to first "stop." For roasting a steak, the oven must be pre – heated at 550 degrees.
The piece of meat must be seasoned. Among the things one can use are garlic, grated onion, olive oil or peppercorn. One can also marinate for a half an hour using Worcestershire sauce, Italian dressing or teriyaki sauce. Broiled steaks are capable of being seasoned more compared to roasted steaks tasting more flavourful with a special sauce.
Coat the broiler pan with a small amount of canola oil or olive oil. Put this inside the oven to heat prior to broiling the steak. Broil sirloin, porterhouse or T – bone steaks that are about one to two inches strip. Flank steaks must be broiled to produce London broil, however, this must be maintained at rare, as they have the tendency to be very tough. For a two to three lb. steak, cook for no more than five minutes to a side.
Coat a heavy iron skillet with a small amount of butter or olive oil or canola oil and put this inside the oven to heat it to roast fillets, tournedos, thick sirloin or sirloin strips. Instead of browning on the top, these will brown on the bottom and take around eight minutes on each side. When you are done, you will have the meat juices readily available to incorporate with red wine, brown sauce and sautéed onions or mushrooms for Bordelaise. The broiler pan can also be used to roast steaks. However, watch this carefully to prevent overcooking because the ventilation is on the two sides of the steak while it is being cooked.
Filed Under: Food & Cooking
About the Author: Leona Kesler is a head-chef at a very popular food restaurant in New York. Also she is a blogger who shares her experiences, tips, and other informative details about food and cooking. Her recipes are featured on many magazines.
Comments (0)