By Leona Kesler on Nov 09, 2010 with Comments 0
---
The roast sirloin tip is a beef cut that comes from the hind section of a cow. It is considered a thick and large cut, containing connective tissues and little fat. The mean can be bland primarily because its fat content is low. To roast a sirloin tip that is tender, one has to loosen up the connective tissues which toughen the texture of the meat and also to avoid the use of high heat. Being patient will allow the cut of meat to cook slowly and steadily, breaking down its fibres and resulting into a tender piece of meat. Patience is the ultimate key when working with this recipe.
WHAT YOU'LL NEED
Roast Sirloin Tip
Platter
Salt
Pepper
Roasting pan (this must be shallow enough for the sirloin tip roast)
Wire rack
Meat thermometer
Sharp knife
Prepared gravy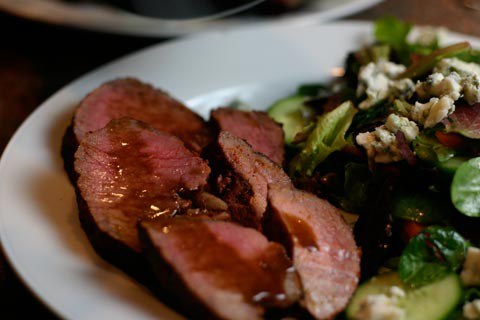 INSTRUCTIONS
The first step is to take the meat off the refrigerator and place it on a flat surface or on the platter. Let the roast warm at room temperature. This takes approximately an hour. Working immediately with chilled meat produces an unevenly roasted meat.
The oven must be pre – heated at 400 degrees. Pepper and salt must be applied on the meat generously. This dense and large piece of meat needs more flavouring because of its low fat content.
Position the wire rack on the roasting pan. The roast must be placed on a rack as this promotes even cooking. A meat thermometer must be inserted into the roast right at its centre. Put this inside the oven and then heat for a period of fifteen minutes.
Reduce the temperature of the oven to 325 degrees. The roast must be heated for an extra twenty eight minutes to half an hour per pound. The exposure of the roast to high temperature makes the coating of the roast golden in colour and makes it tastier.
Remove the meat from inside the oven. The thermometer must have a reading of 145 degrees. If the thermometer does not have such reading, the roast must be returned inside the oven. The heating must continue until the thermometer reads 145 degrees.
Allow the meat to cook undisturbed for a minimum period of ten minutes. After, cut the roast in thin slices. Serve this with the prepared gravy.
Filed Under: Food & Cooking
About the Author: Leona Kesler is a head-chef at a very popular food restaurant in New York. Also she is a blogger who shares her experiences, tips, and other informative details about food and cooking. Her recipes are featured on many magazines.
Comments (0)