By Leona Kesler on Nov 09, 2010 with Comments 0
---
Salisbury steak is one of those dishes that are seemingly expensive in fine restaurants, making you wonder what are the pricey ingredients involved in the making of dish. Where do the ingredients come from? What are they made of? In reality though, Salisbury steak is very easy to make and do not require fancy and exotic food stuff. It is relatively inexpensive to make too.
Salisbury steak is really just beef patties that have been grounded and then smothered in flavourful gravy. This recipe is quick to prepare and preparation can be done on just a stove – top. The instructions below are a breeze to follow. Now sit back, relax, and watch as your family members and guests revel at the taste of the Salisbury steak you prepared.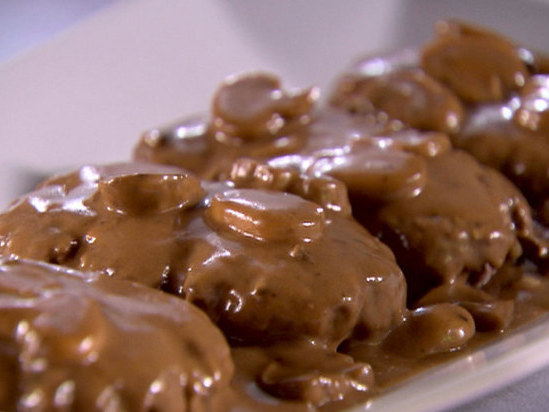 WHAT YOU'LL NEED
1 can or 10.5 ounces of French onion flavoured soup (use is divided)
1 ½ pounds of ground beef
1 teaspoon of Worcestershire sauce
¼ teaspoon of mustard
1 tablespoon of flour (all-purpose)
¼ cup of ketchup
¼ cup of water
½ cup of dry and fine bread crumbs
1 egg (use fork to beat egg)
a pinch of pepper and some salt
INSTRUCTIONS
With the use of a bowl, mix 1/3 cup of French onion soup with the ground beef, salt, pepper, egg and the bread crumbs. Form this into oval – shaped patties. With the use of a frying pan, brown the patties. The fat must be drained. After this, remove the patties and keep the patties warm.
Slowly blend the flour with the remaining soup. Continue to combine the mixture until it is smooth. Next, add the mustard, the Worcestershire sauce, the ketchup and the water. Blend the ingredients well.
After this, add the mixture to the frying pan. Bring the heat to a boil. Stir the mixture reduce the brown bits.
Cover the mixture with a lid and cook for a period of five minutes. You will have to stir occasionally. Transfer the patties to the gravy in the pan. Cover the pan again with a lid and simmer for a period of fifteen minutes.
Filed Under: Food & Cooking
About the Author: Leona Kesler is a head-chef at a very popular food restaurant in New York. Also she is a blogger who shares her experiences, tips, and other informative details about food and cooking. Her recipes are featured on many magazines.
Comments (0)