By Leona Kesler on Dec 28, 2017 with Comments 0
---
Pork chops can be deliciously flavorful and surprisingly tender when pork chops are grilled the right way. To seal in the flavors, just marinate before grilling the meat and be certain that the meat is not overcooked. You will surely enjoy a messy but delightfully delicious summer treat.
What You'll Need
Four pork chops
1/2 tsp. light brown sugar
3 tbsp. soy sauce
1/4 cup plus 1 tbsp. lemon juice
1 tbsp. extra-virgin olive oil
1/4 tsp. fresh or dried rosemary
1/4 tsp. black pepper
1/4 tsp. salt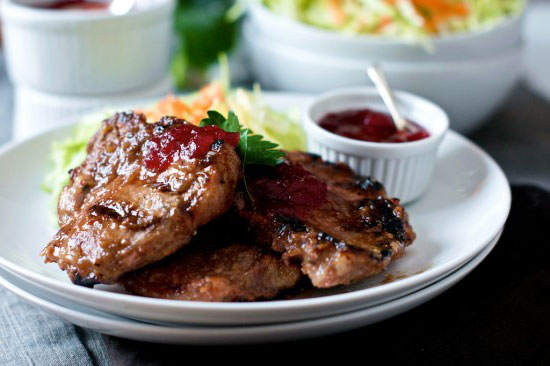 How to Cook Pork Chops on the Grill
At the meat section of your local grocery store, select and buy the best pork chops. The pork loin chops are the most tender but the least expensive cuts are usually the T-bone pork chops. Preferably, 1-inch thick slices should be bought.
In preparing your pork chops for grilling, all excess fats should be trimmed from the meat.
In a bowl, combine all the marinade ingredients together including lemon juice, seasonings and olive oil. Bowls made of iron or aluminum should not be used because these materials can be stained by marinades.
Pork chops can be marinated in a plastic zipper bag, pan or bowl. Simply put the pork chops in the container and pour enough amount of marinade to cover all the meat. Place in a bowl to prevent leaks if a plastic bag is used for the marinade. Place inside the refrigerator to chill for 30-60 minutes
Take out the pork chops from the marinade. Place them on a platter after draining any excess liquid. Allow to sit at room temperature for an additional 30 minutes.
Meanwhile, preheat the grill at high temperature.
Place the pork chops on the grill under direct high heat. Cook the pork chops for 3 minutes per side.
To a cooler section of the grill or medium heat, transfer the pork chops for the remaining cooking time and allow to cook for an additional 6-8 minutes. The juices should run clear instead of pink when the chops are done. If you have a meat thermometer, you can also use it to test the doneness of the pork chops.
Let cool for 5-10 minutes then season with pepper and salt for flavor. Serve.
Tips & Warnings
Never use any of the marinade that was previously mixed with the raw pork chops.
Always wash any surfaces, including your hands, which have touched the raw meat.
Throughout the cooking process, monitor the pork chops closely because they are relatively drier than any other meat cuts and can burn easily.
Filed Under: Food & Cooking
About the Author: Leona Kesler is a head-chef at a very popular food restaurant in New York. Also she is a blogger who shares her experiences, tips, and other informative details about food and cooking. Her recipes are featured on many magazines.
Comments (0)